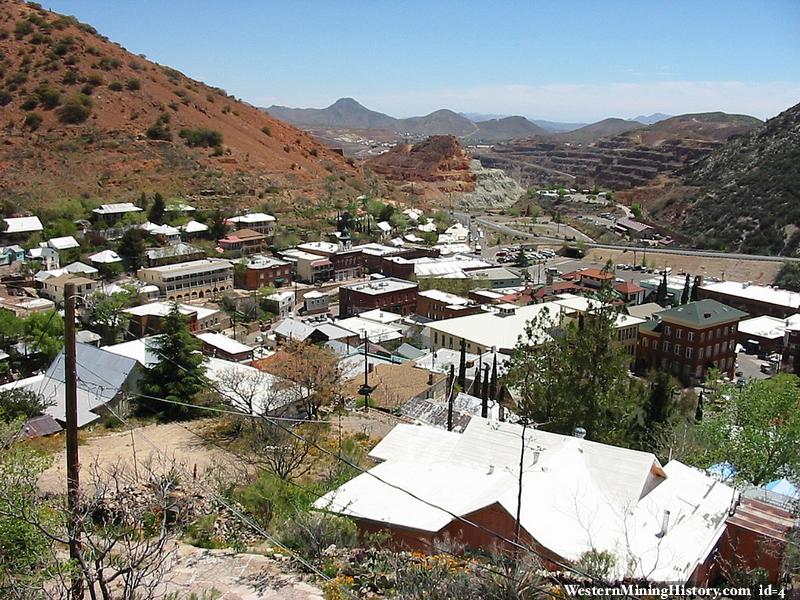 Bisbee Details
Status: Active Town
Date Settled: 1880
Current Population: 6,800
Peak Population: 25,000
Elevation: 5,300 Feet ( 1,615 meters)
Primary Mineral: Copper
State: Arizona
Gallery: View 68 Bisbee, Arizona Photos
Bisbee Description
Bisbee was founded as a copper, gold, and silver mining town in 1880, and named in honor of Judge DeWitt Bisbee, one of the financial backers of the adjacent Copper Queen Mine. Mining in the Mule Mountains proved quite successful: in the early 20th century the population of Bisbee soared. Incorporated in 1902, by 1910 its population swelled to more than 25,000 and it sported a constellation of suburbs, including Warren, Lowell, and San Jose, some of which had been founded on their own (ultimately less successful) mines. In 1929, the county seat was moved from Tombstone, Arizona to Bisbee, where it remains.

By 1950, boom times were over and the population of the City of Bisbee had dropped to less than 6,000, but the introduction of strip mining and continued underground work would see the town escape the fate of many of its early contemporaries. However, in 1974-1975, the Phelps Dodge Corporation finally halted mining operations in its massive Bisbee mine, the Lavender Pit.

The resulting exodus of mine employees might have been the end of the town. Still, as the county seat, the city's economy soldiered on. The sudden flood of real estate onto the market and crash in housing prices, coupled with an attractive climate and picturesque scenery, led to Bisbee's subsequent rebirth as an artists' colony.

Today, the original city of Bisbee is known as "Old Bisbee," and is home to a thriving downtown cultural scene. Old Bisbee is also noted for its architecture, including its Victorian houses and elegant Art Deco courthouse. The town's hilly terrain is exemplified by the old three-story high school, each floor having a ground-level entrance.