Gambler and writer Bat Masterson once wrote that the story of Wyatt Earp is the story of the West.
Born in the Illinois, Wyatt Earp and his brothers discovered the West after the Civil War as its great mineral wealth drew Irish immigrants, Mexican and Chinese laborers, and others "driven from their farms, shops, and factories by hard times" and pulled west "by dreams of quick fortune, a fresh start, or one last chance." as the late Richard Lingenfelter wrote in 1974.
Wyatt had just turned seventeen years old when Gen. Robert E. Lee surrendered at Appomattox ending the war, and he was twenty when the golden spike was hammered home at Promontory Summit, Utah connecting the nation's Atlantic and Pacific coasts by a transcontinental railroad whose building had been spurred on by that mineral wealth.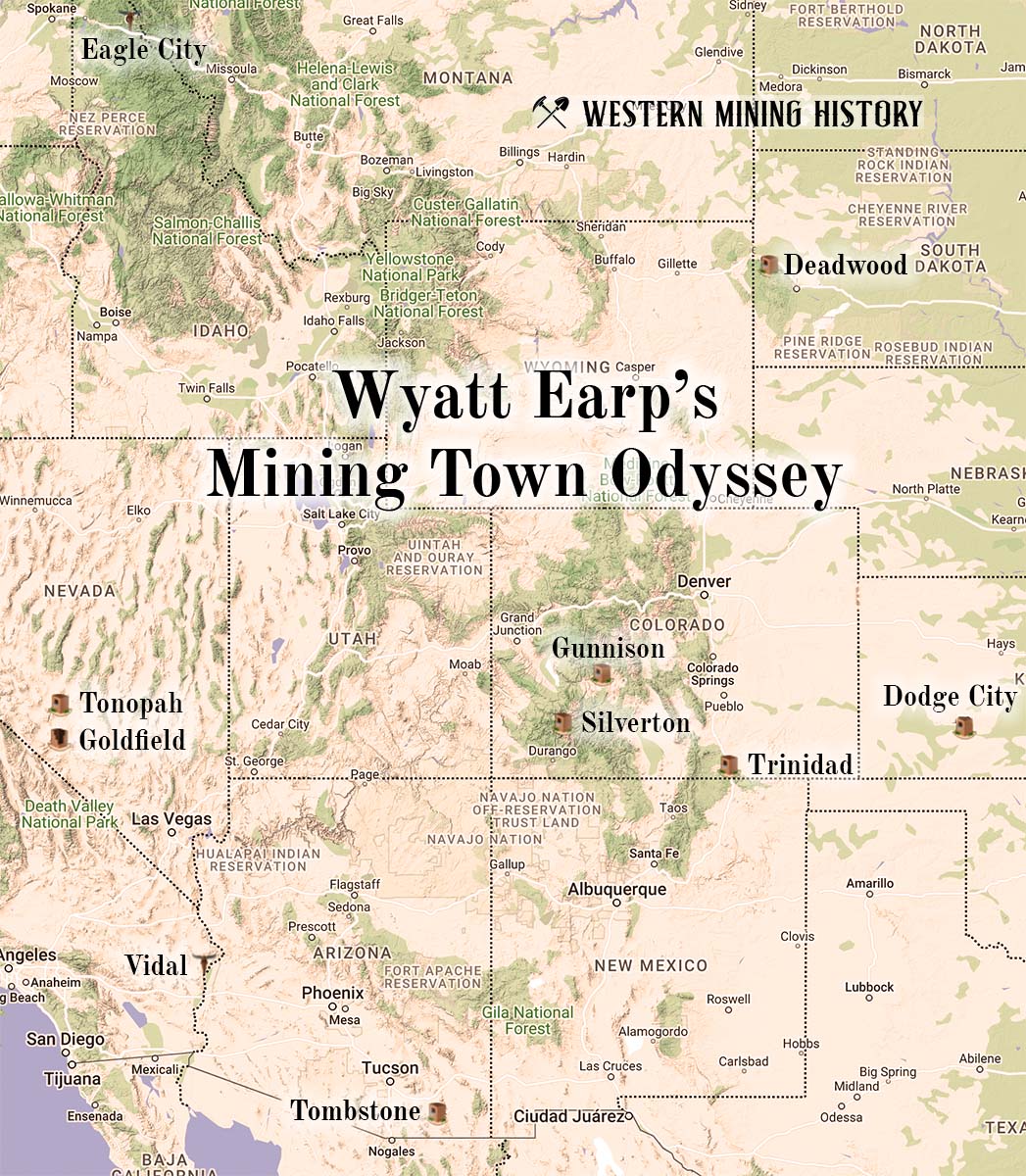 Like Masterson, Earp and his five brothers were gamblers, but they were also saloon keepers, sometimes lawmen, and—it was rumored—brothel-keepers. They did little mining themselves though they did speculate in mining claims, resided in many of the West's mining camps and boomtowns, and made their livings, as Wyatt once described it, "mining the miners".
Wyatt Earp was the fourth of Nicholas and Virginia Ann (Cooksey) Earp's nine children. He was born March 19, 1848, in Monmouth, Illinois and had three older brothers, James, Virgil, and Morgan, an older half-brother, Newton from Nicholas Earp's first marriage, and a younger brother, Warren. There were also three daughters, Martha, Virginia, and Adelia, and all the Earp children grew up in Illinois and Iowa.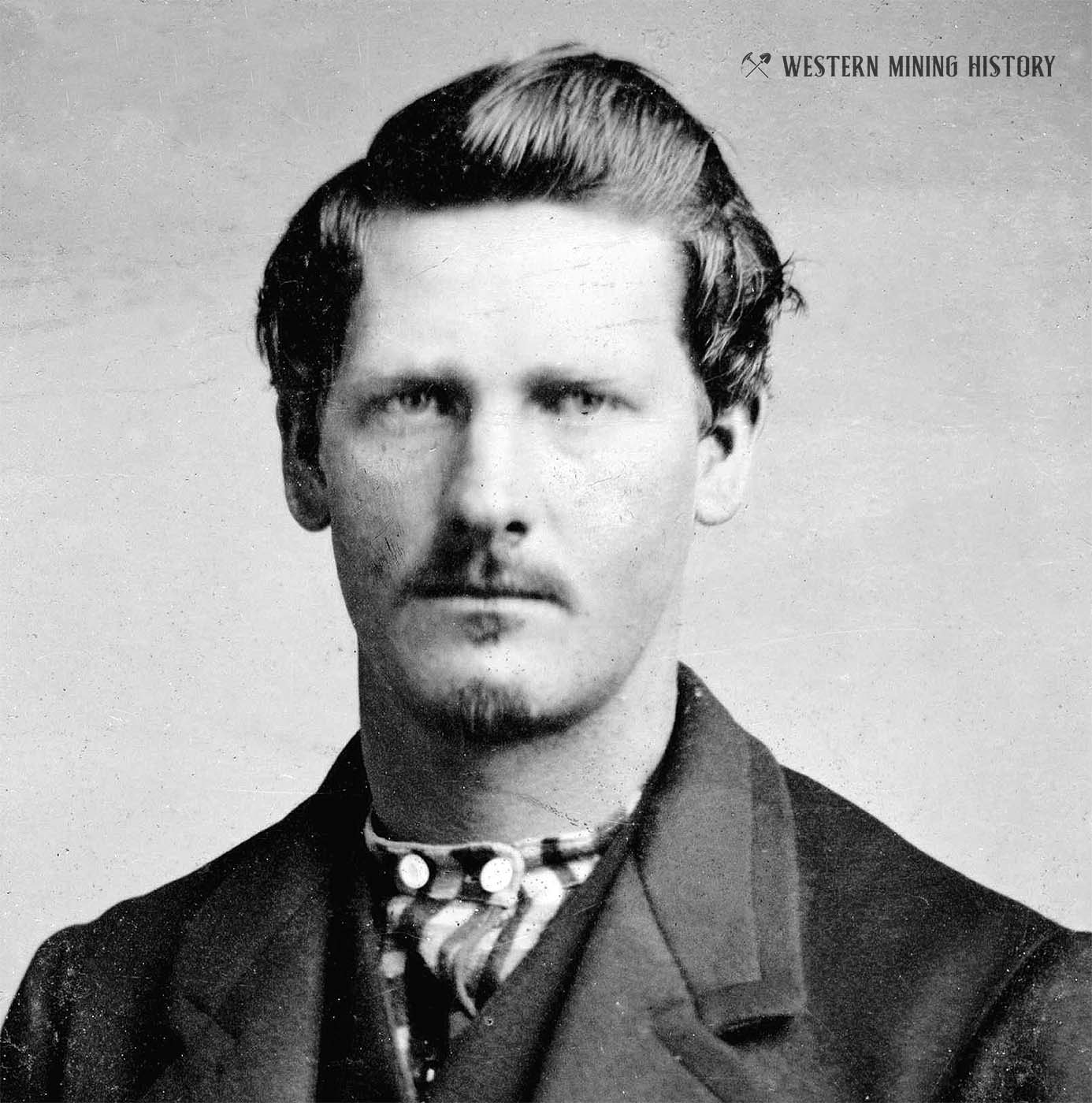 James Butler "Wild Bill" Hickok was also born in Illinois and Masterson lived there when he was young. Like Hickok and Masterson, the Earps sprung from the working class, rural America that western historian Harry Sinclair Drago called "the rough material that the legendary, half-mythical cowboy and Western peace officer were created."
The Irresistible Draw of the Western Boomtown
The West had started to change in 1848 when James Marshall found flakes of gold at Sutter's Mill on California's American River, and the hungry and hopeful flocked to the area pitching tents and staking claims. The population of the California Territory climbed from 1,000 before the discovery to 100,000 a year later, and some $2 billion worth of gold would be taken from the area in the four years after its discovery.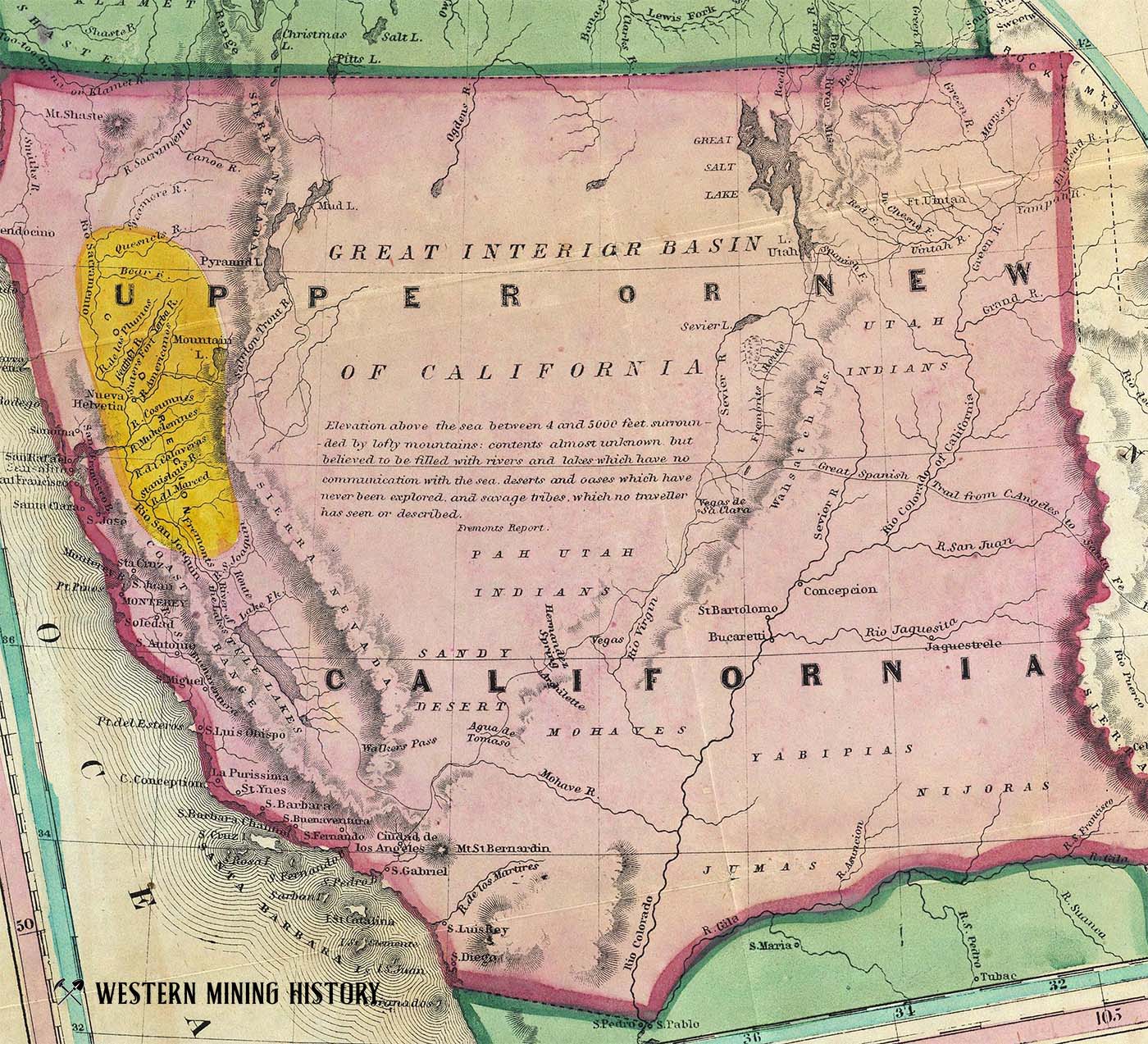 That migration west of people driven "by hard times" and "dreams of quick fortune" was halted by the Civil War but resumed as soon as it ended.
Nicholas Earp, with a restlessness later evident in his sons, joined the westward flow moving his family from its early home in Illinois to Iowa, then in 1863 to California, and then back east to Lamar, Missouri in 1868.
For a time during these years, Wyatt and Virgil Earp worked as teamsters, and Wyatt became involved with several bawdy houses, probably as what would today be called a "bouncer," a trade he later pursued at a place run by his brother Warren in Wichita, Kansas.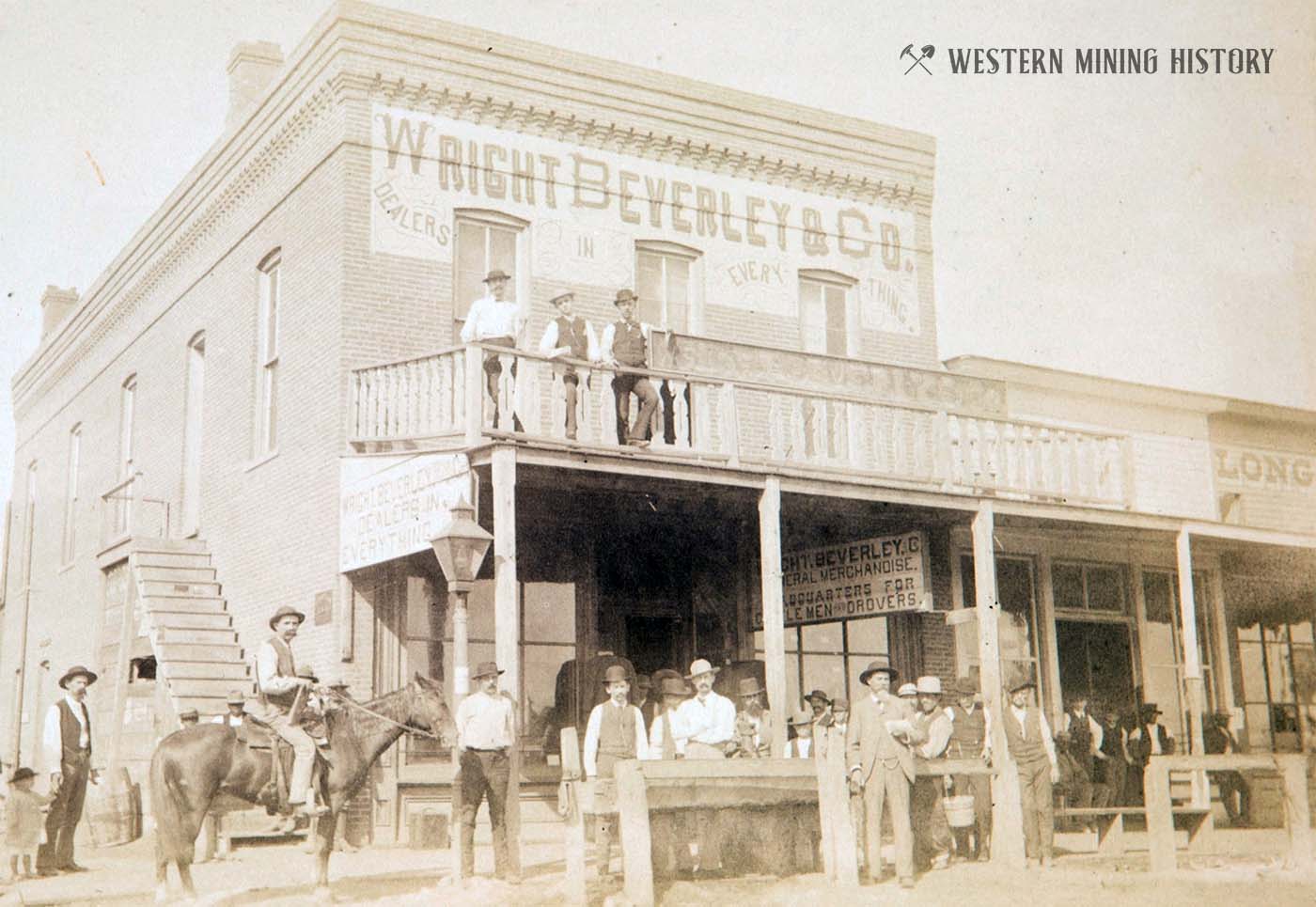 Wyatt relocated to Dodge City, Kansas after the Atchison, Topeka, and Santa Fe railroad arrived there in September 1872. A wide-open cow town, one visitor to Dodge City, wrote that the town had a population of "700 people served by fourteen saloons, two dance halls, and forty-seven prostitutes." Wyatt settled into the Dodge City routine first as a gambler and then as a faro dealer. At times he served as a police officer.
The Earps had discovered the boom town.
The Earps Follow the Money
Starting in the mid-1870s, Wyatt and his brothers felt the draw of the numerous mining boom towns that were springing up throughout the West as gold and silver discoveries were made with increasing frequency.
In September 1876, Wyatt and Warren headed north to the join the gold rush to the Black Hills in Dakota Territory. They arrived in Deadwood not long after Jack McCall had shot and killed Wild Bill Hickok, one of the Wests most famous historical events. Once in Deadwood, however, the Earp brothers found few opportunities, and Warren left the area while Wyatt spent the 1876-77 winter in Deadwood before returning to Dodge City in the spring.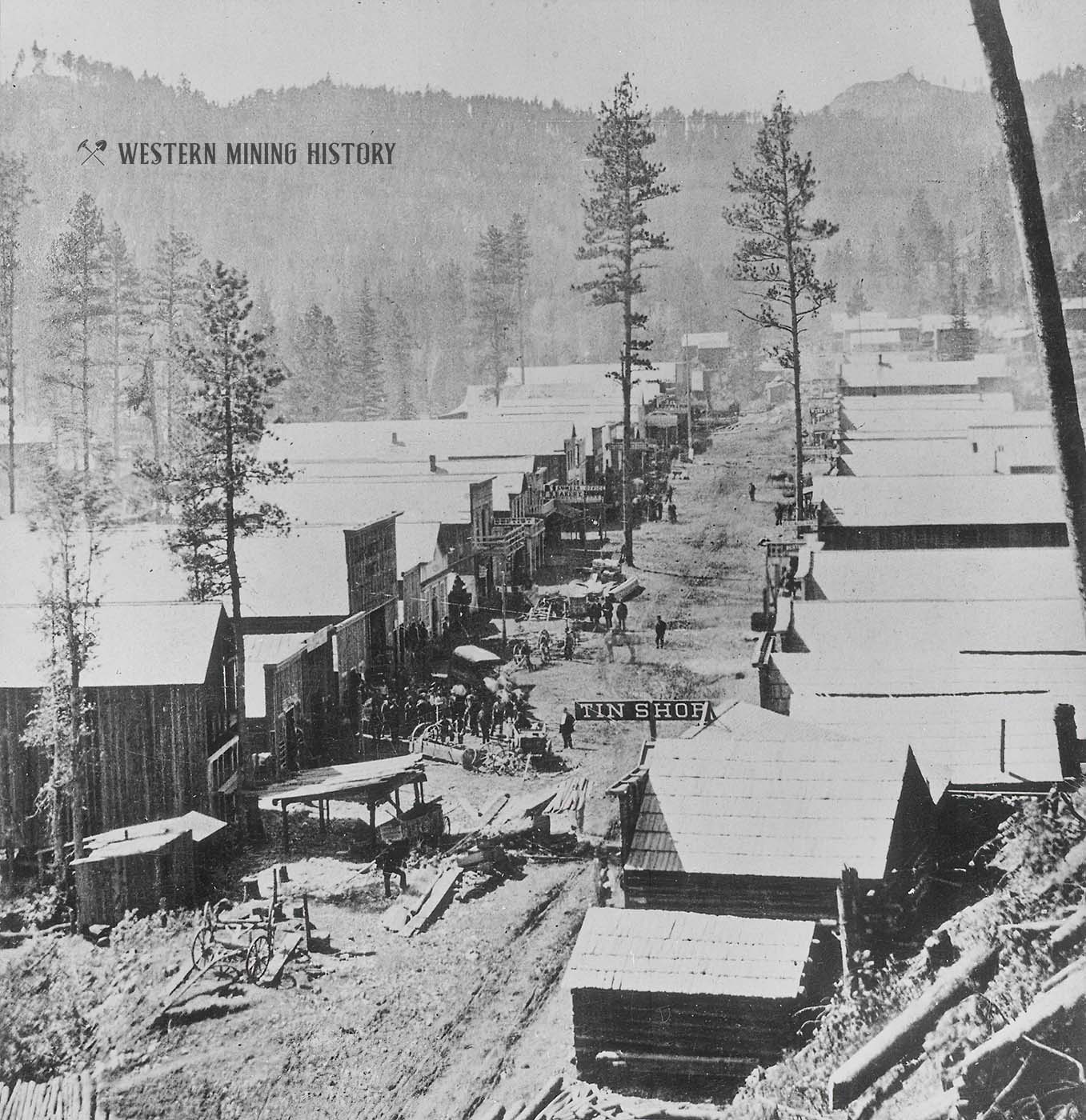 By that time, older brother Virgil Earp was working as a town constable in Prescott, Arizona Territory, and he wrote to Wyatt about opportunities at Tombstone, Arizona where prospector Ed Schieffelin had discovered silver in 1878.
Wyatt and James traveled to Tombstone where Virgil had by then been appointed deputy U.S. marshal and James was deputy marshal. They arrived in Tombstone in December of 1879, and Wyatt's younger brothers Warren and Morgan joined them the following year.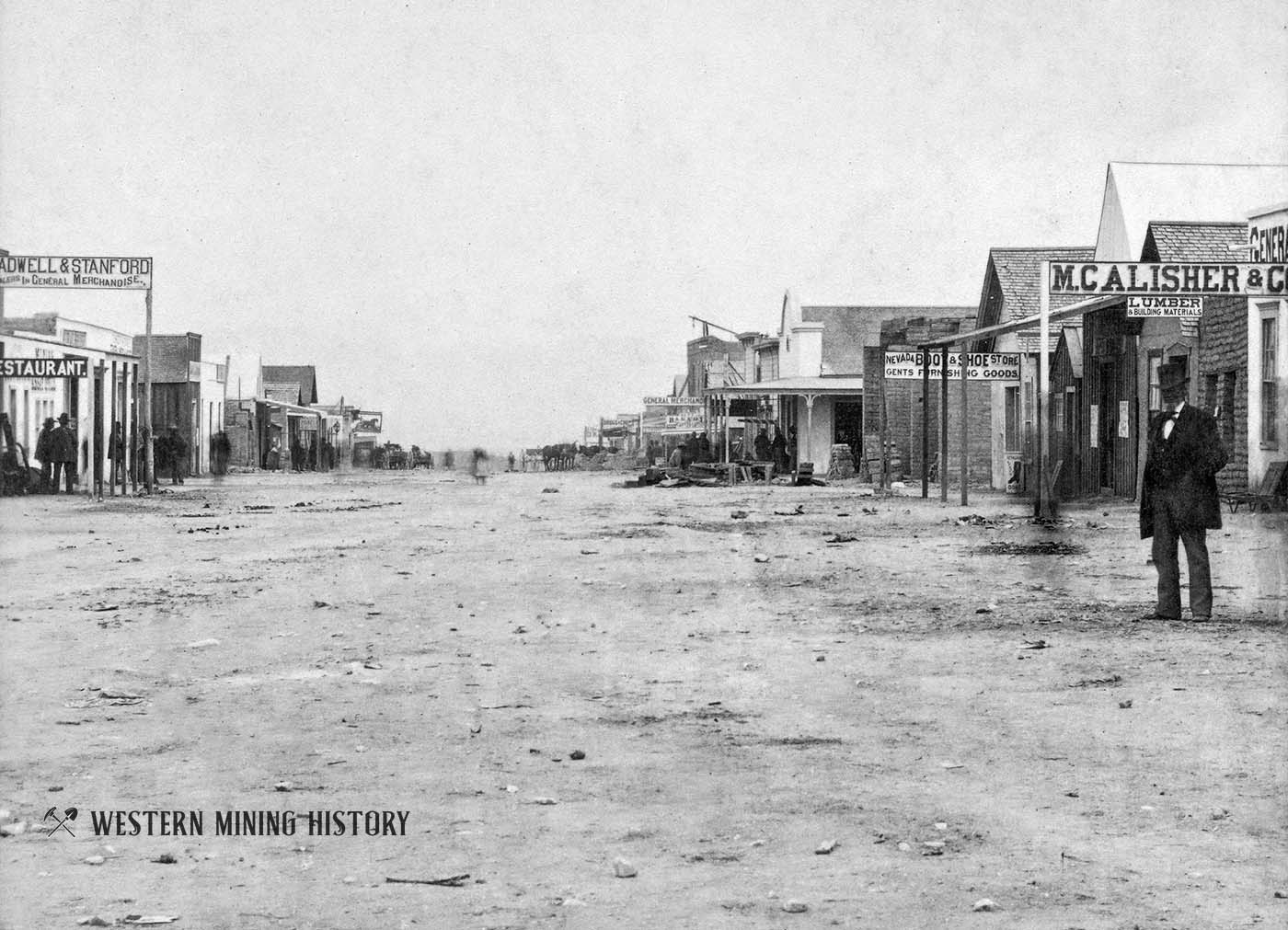 By the beginning of 1881, the Earps were established in Tombstone with stakes in at least two mining properties. Wyatt had traded his services as manager and security man for a quarter interest in the faro game at the Oriental Saloon, moving up from gambler to saloon and gambling house owner. Wyatt also worked as a part-time police officer under Virgil.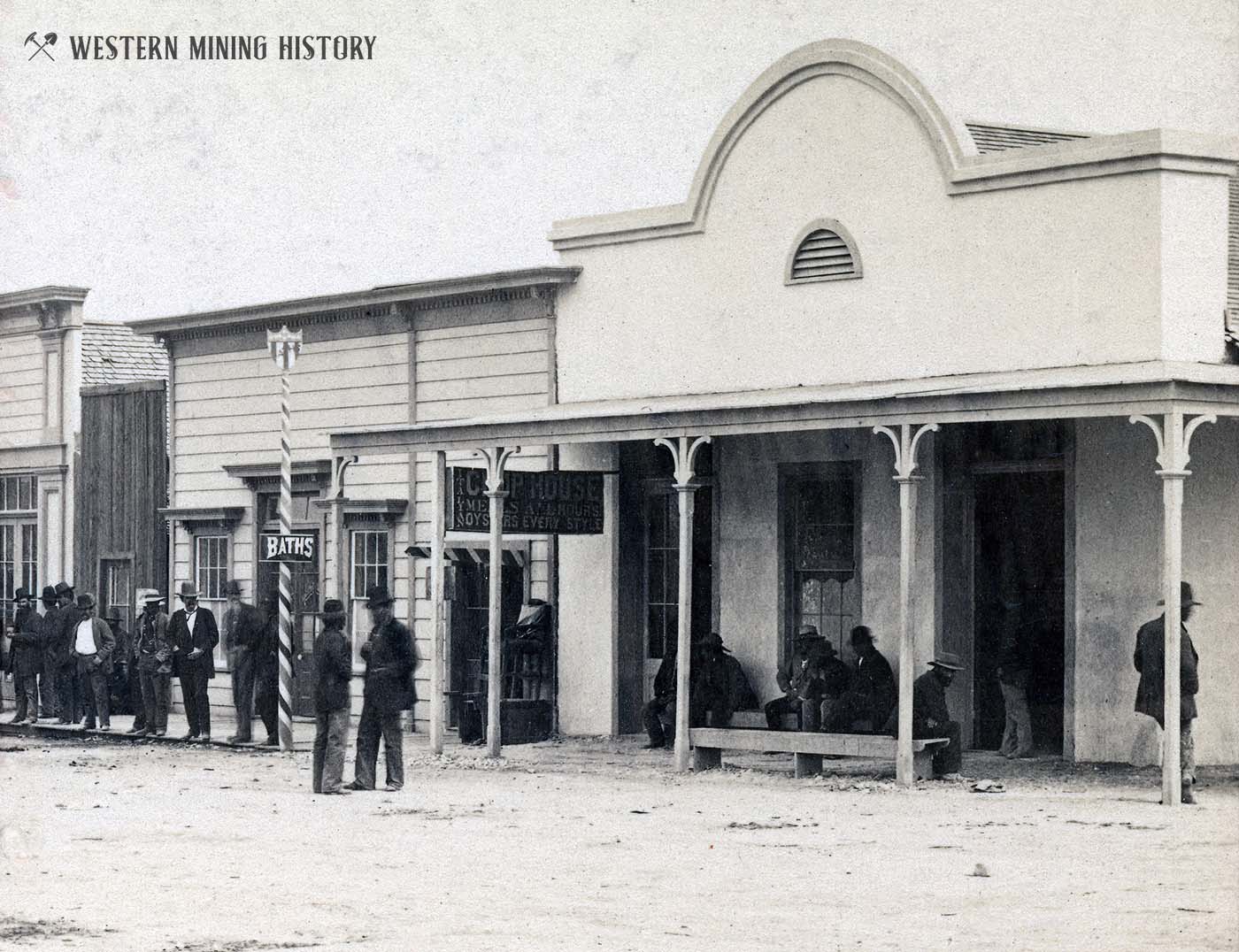 The good times were short lived however, as the Earps soon clashed with the Cowboy Gang, culminating in the famous gunfight at the OK Corral, and shortly after by the murder of Morgan Earp by a member of the outlaw gang.
Related: Aftermath of the Gunfight at the OK Corral
Wyatt left Tombstone traveling with Bat Masterson to Albuquerque, New Mexico, Trinidad, Colorado, and finally Gunnison, Colorado, where placer deposits of gold had been found and the railroad had arrived in 1880.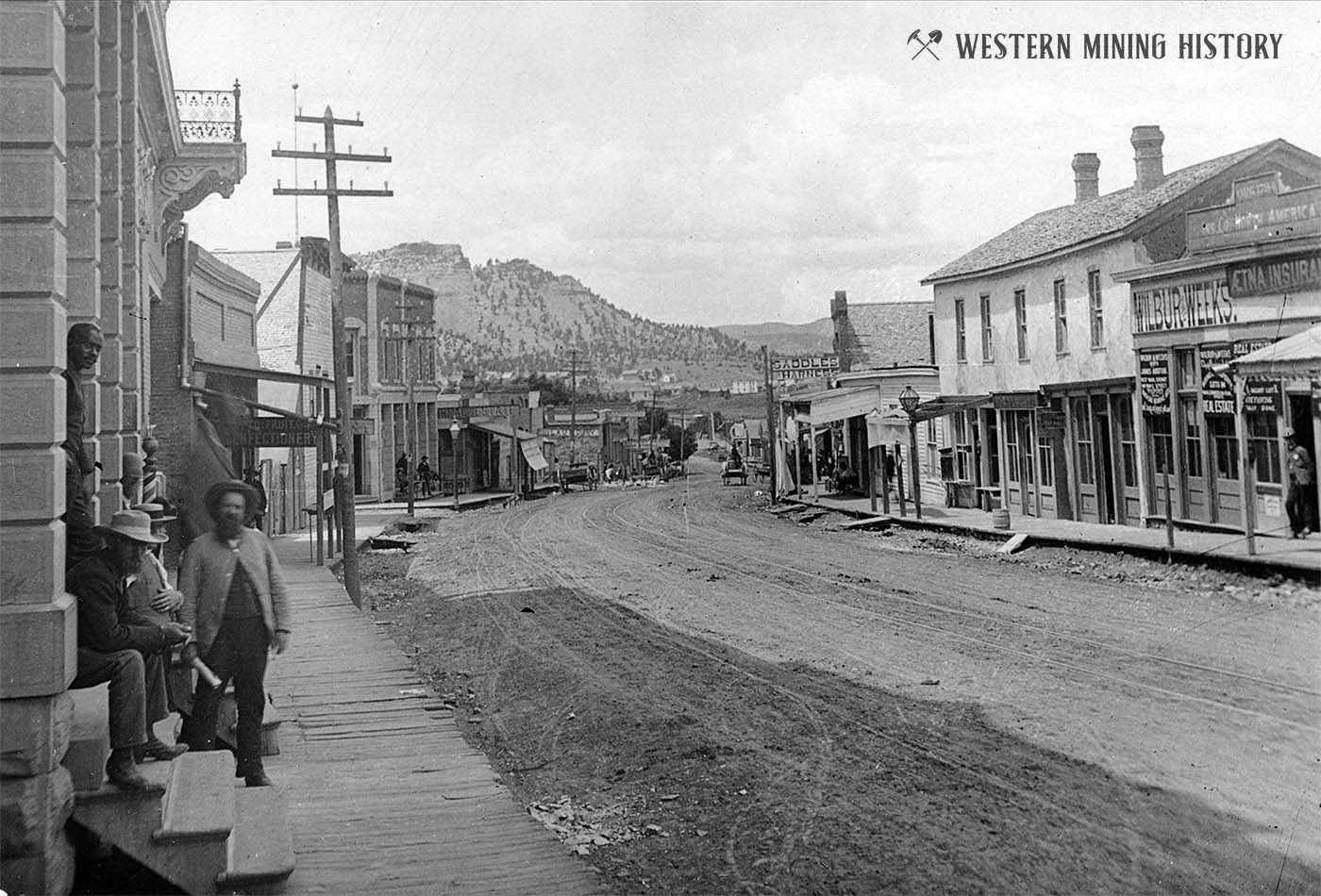 Following the mines and miners, Wyatt moved from Gunnison to California, then left there for the silver and gold mining camps around Silverton Colorado, made a quick trip back to Dodge City to help his friend Luke Short in his feud with the town over the Long Branch Saloon, and then moved to Eagle City, Idaho with brothers Warren and James in 1884.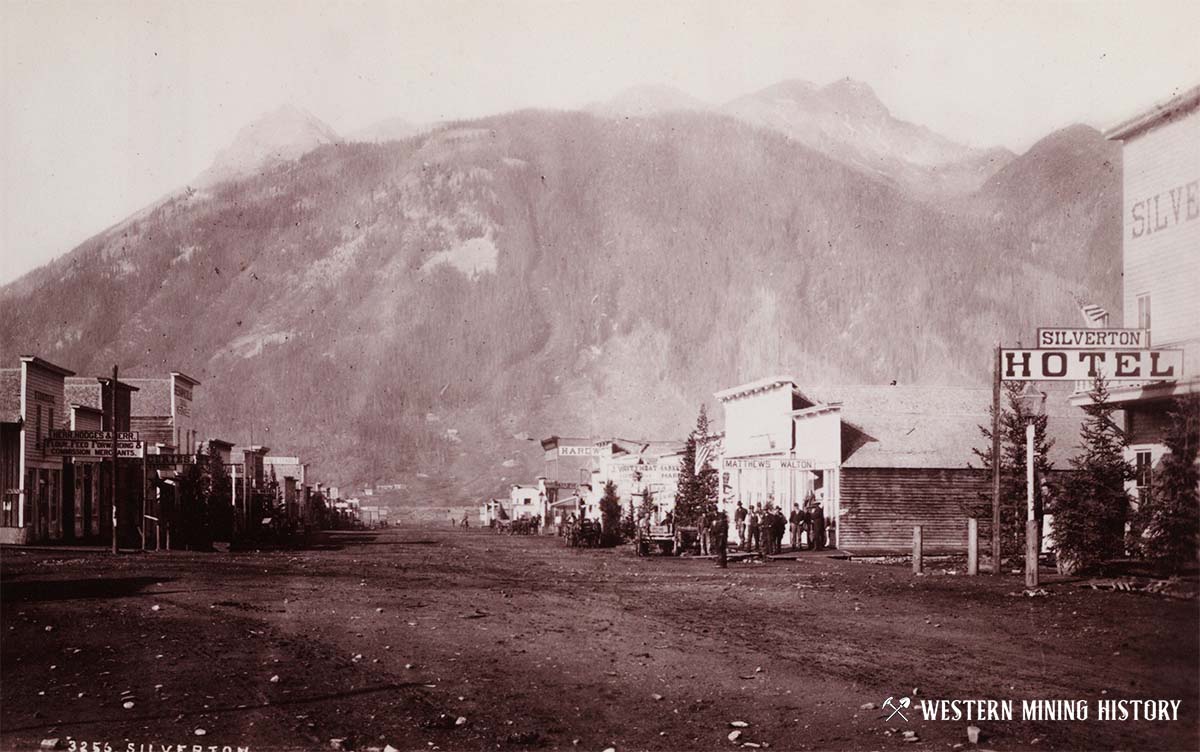 Rich placer gold had been discovered in this part of Idaho, and the brothers briefly joined the miners before returning to what had become Wyatt's chosen career and opening a saloon called The White Elephant.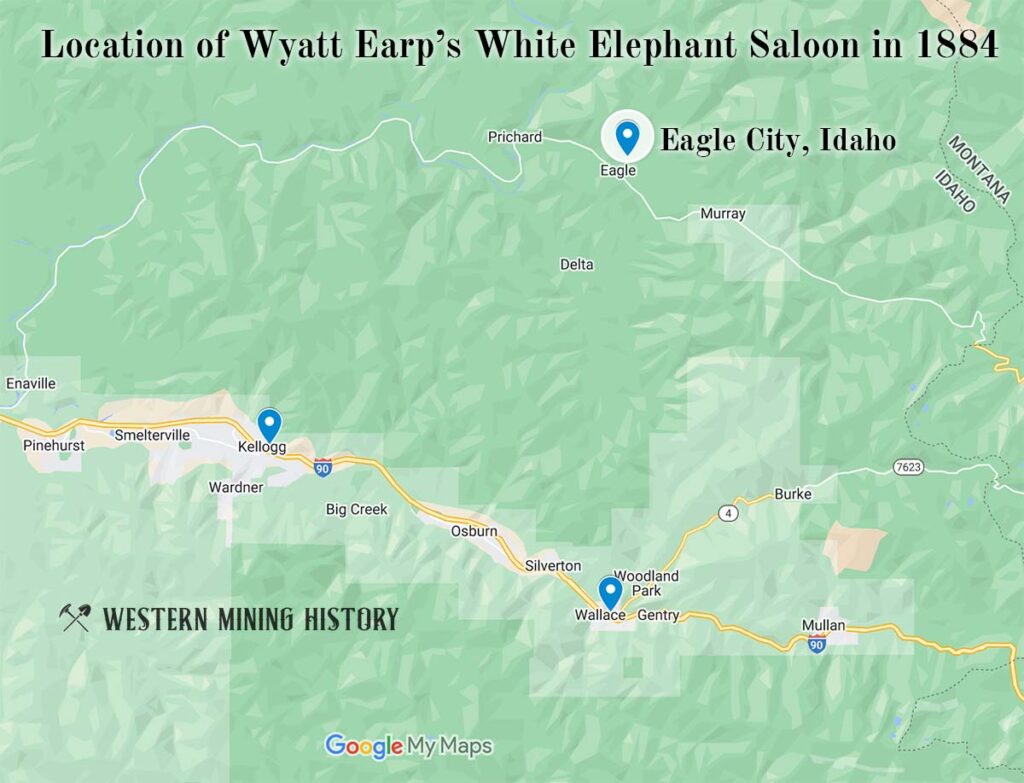 Earp assumed the role of deputy sheriff in the region, overseeing numerous conflicts related to mining claims and property ownership, some of which he had personal stakes in. In March of 1884, Earp's business partner, Jack Enright confronted a man named Bill Buzzard. Enright asserted that the building be constructed by Buzzard encroached on his property, leading to a heated argument.
Buzzard discharged multiple rounds from his Winchester rifle at Enright, prompting both sides to seek cover behind snowbanks and engage in a shootout. Earp and his brother James intervened, stepping into the midst of the dispute and successfully defusing the confrontation without any serious injuries.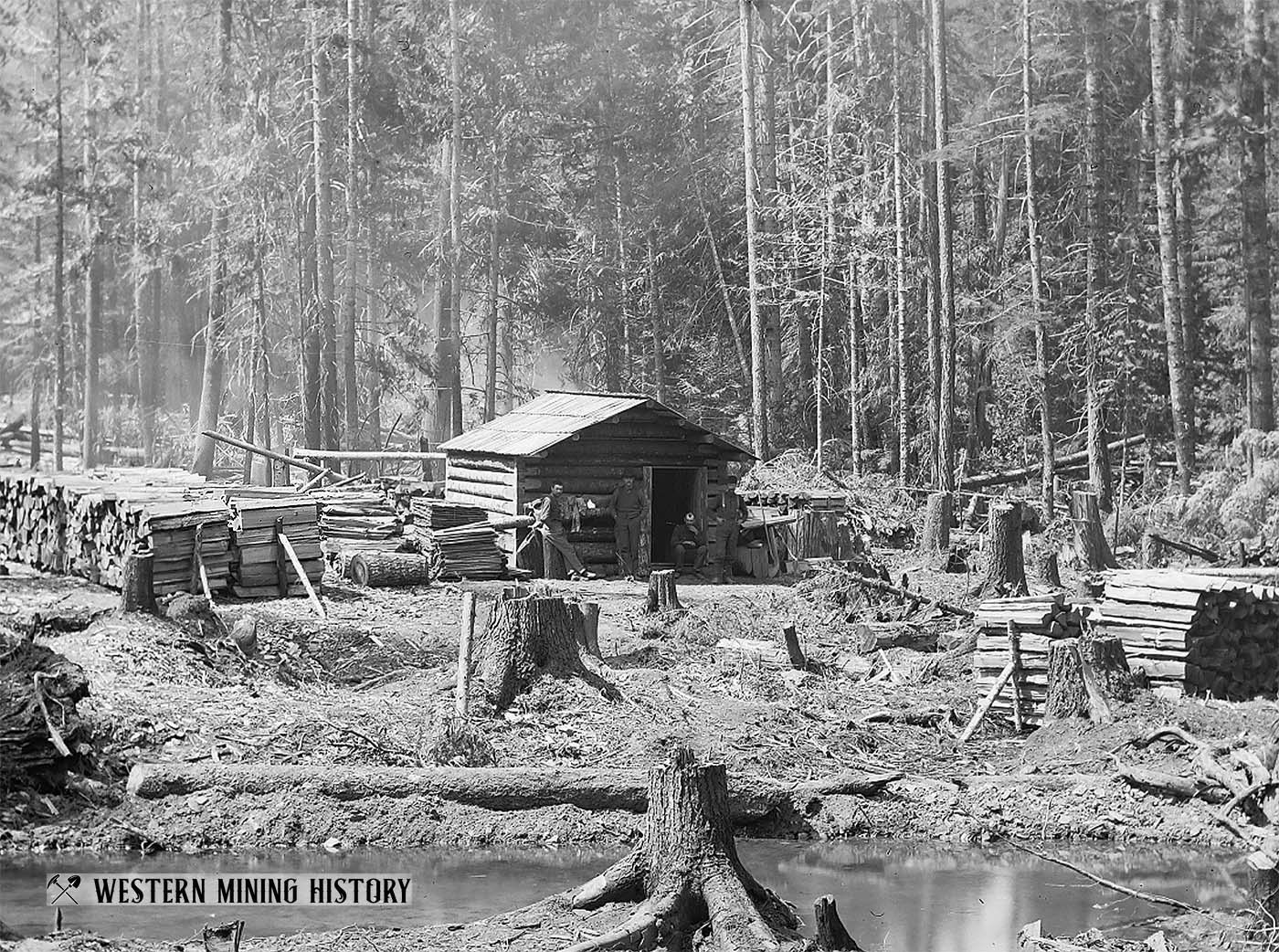 The Earps left Idaho sometime between late 1885 and early 1887 (accounts vary), returning to California where Wyatt settled in San Diego speculating in the local real estate boom while owning and operating several saloons there. Later, claims were made that while in Idaho, Wyatt had been involved in a claim jumping scheme, and had abused his position as a lawman for personal gain.
Wyatt's Alaskan Adventure
In September 1897, Wyatt and his wife Josephine headed north by steamship to join the gold rush to the Yukon region. Things did not go as planned however, and they only got as far as Rampart before the Yukon river iced over, trapping them there for the winter.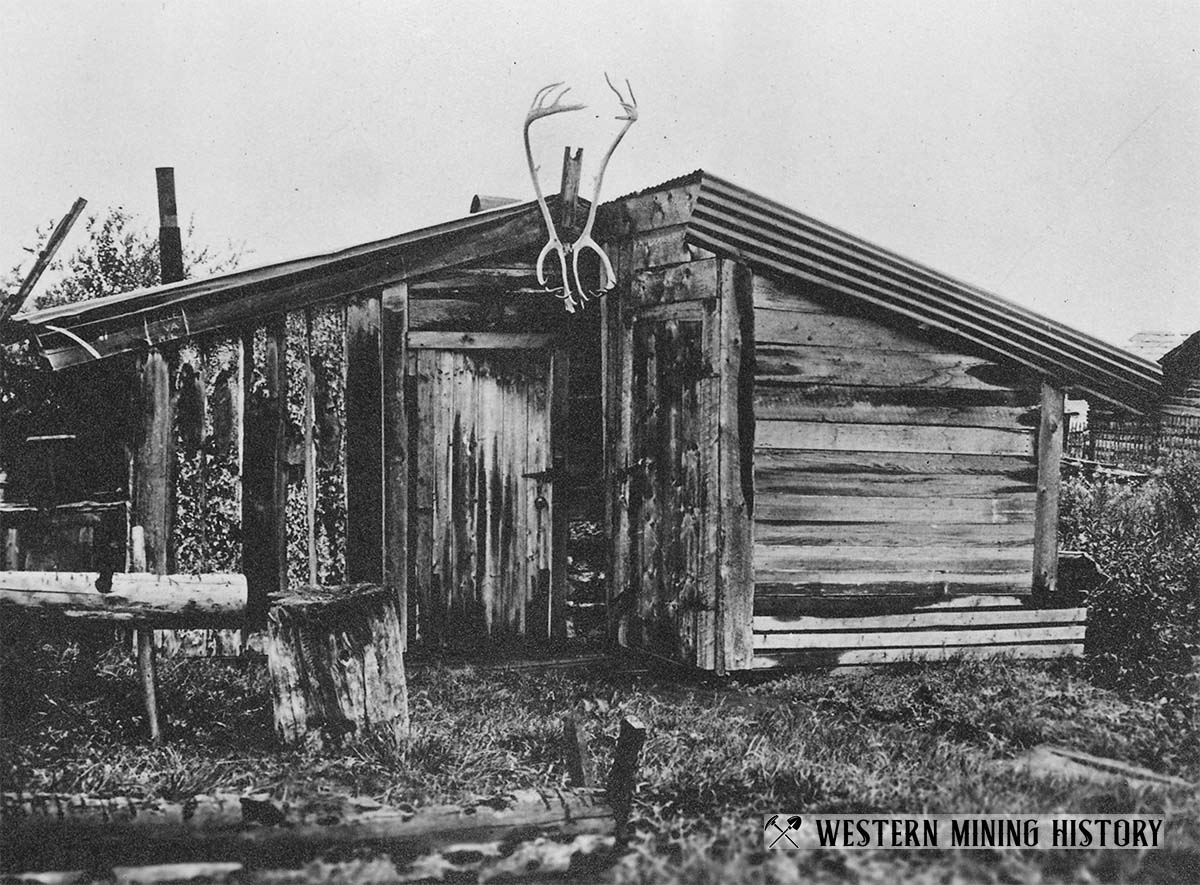 As spring arrived and the river began to thaw, they left rampart for St. Michael, where Wyatt sold beer and cigars for the Alaska Commercial Company. While there, Wyatt received letters from his friend Tex Rickard, convincing him to relocate to Nome where a frenzied gold rush was underway.
Wyatt moved on to Nome in 1899 where he and partner Charles E. Hoxie built the Dexter Saloon, the city's first two-story wooden building, which served as a saloon and gambling hall, and in 1900 a possible brothel after new "club rooms" were opened on the second floor.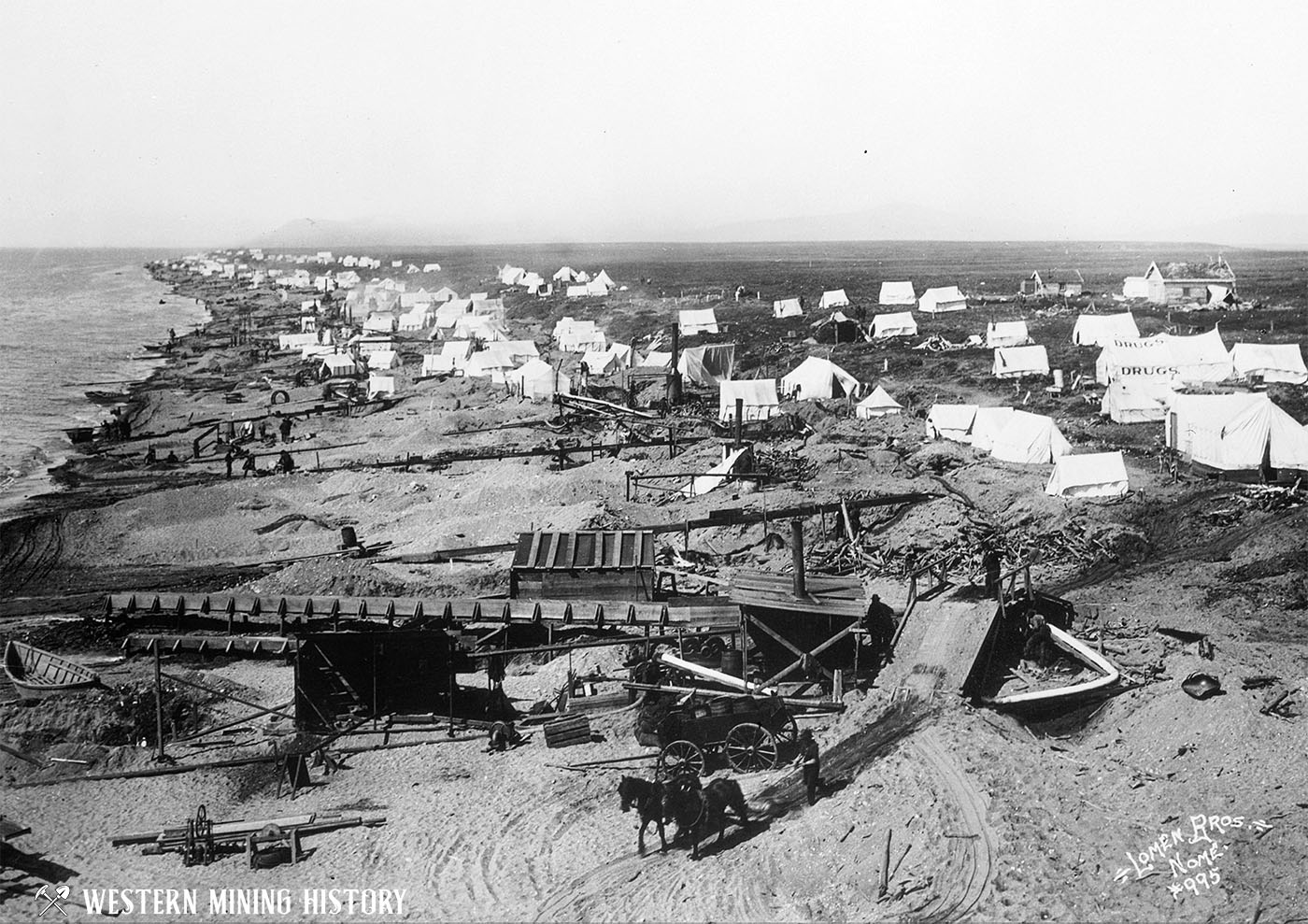 He filed a few mining claims, but as usual he devoted most of his efforts to his saloon. Wyatt's reputation drew large crowds to the Dexter, and the saloon became one of Nome's most popular watering holes.
The year 1900 was the peak of the Nome gold rush, and the town and adjacent beaches were packed with around 20,000 people all hoping to find their fortune. The Dexter was making Wyatt rich, but the good times were about end.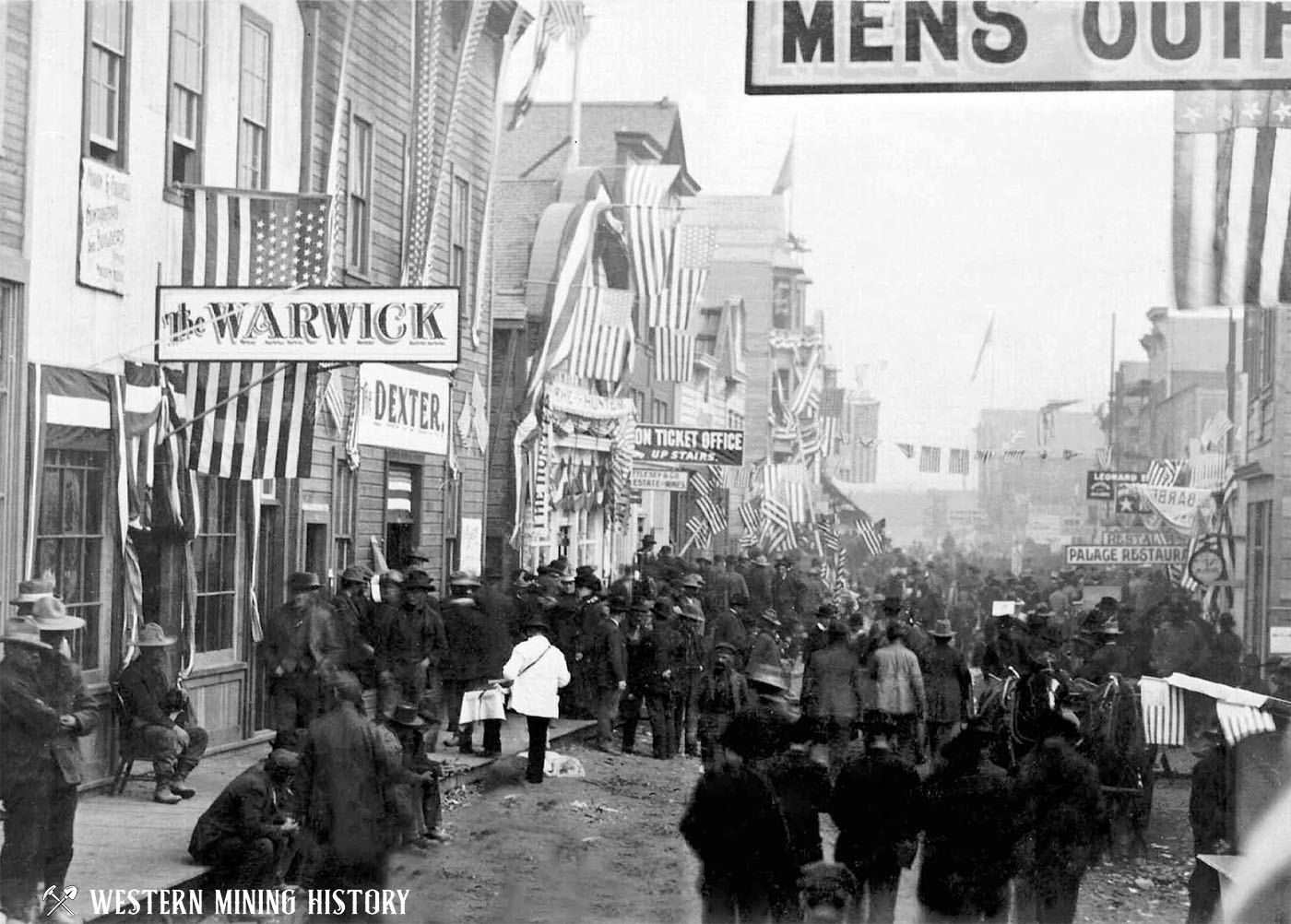 Wyatt began to have trouble with the law related to violent incidents at his saloon. In July, his younger brother, Warren Earp, was fatally shot in Willcox, Arizona. The media swiftly connected his murder to Wyatt and his involvement in the infamous Gunfight Behind the O.K. Corral in Tombstone. These incidents served as a stark reminder that the Earps couldn't elude their past, even in the remote confines of Nome.
In September, a violent storm ravaged the area, destroying much of the city, wrecking numerous ships, and killing around 100 people. The excitement of the gold rush was over even quicker than it started, and exhausted, battered prospectors began fleeing Nome by the thousands.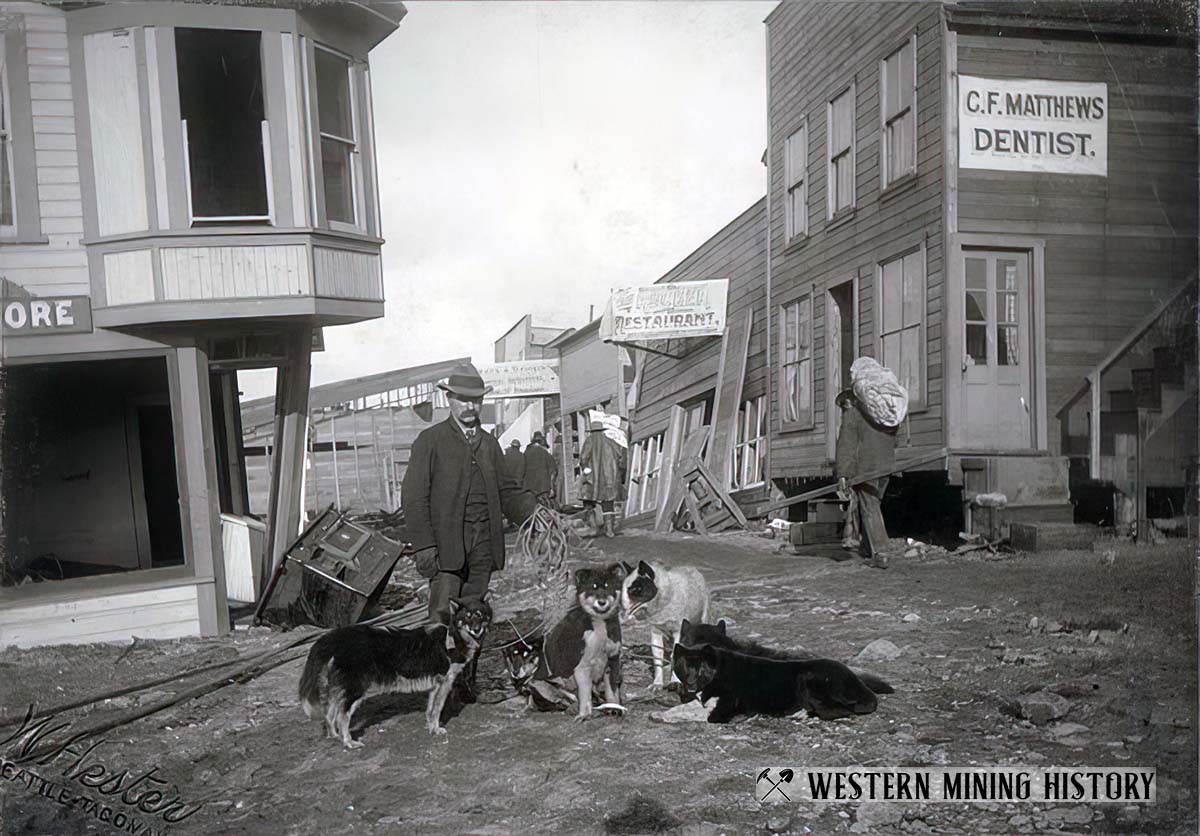 In the fall of 1901, Wyatt sold his share of the Dexter and his mining claims, and he and Josephine headed back to civilization. He left Nome with an estimated $80,000, or around $2 million in today's dollars.
The Nevada Years
Back in continental United States, the Earps quickly squandered their newfound wealth by speculating on mines, gambling, lending money to family and friends, and investing in businesses like the Northern Saloon, which he opened with partner Al Martin at Tonopah, Nevada in 1902.
Apparently they depleted their fortune so quickly that, while in Tonopah, Wyatt was also working as a teamster running freight to railroad depots at Candelaria and Sodaville, and for a brief time was a Deputy U.S. Marshall.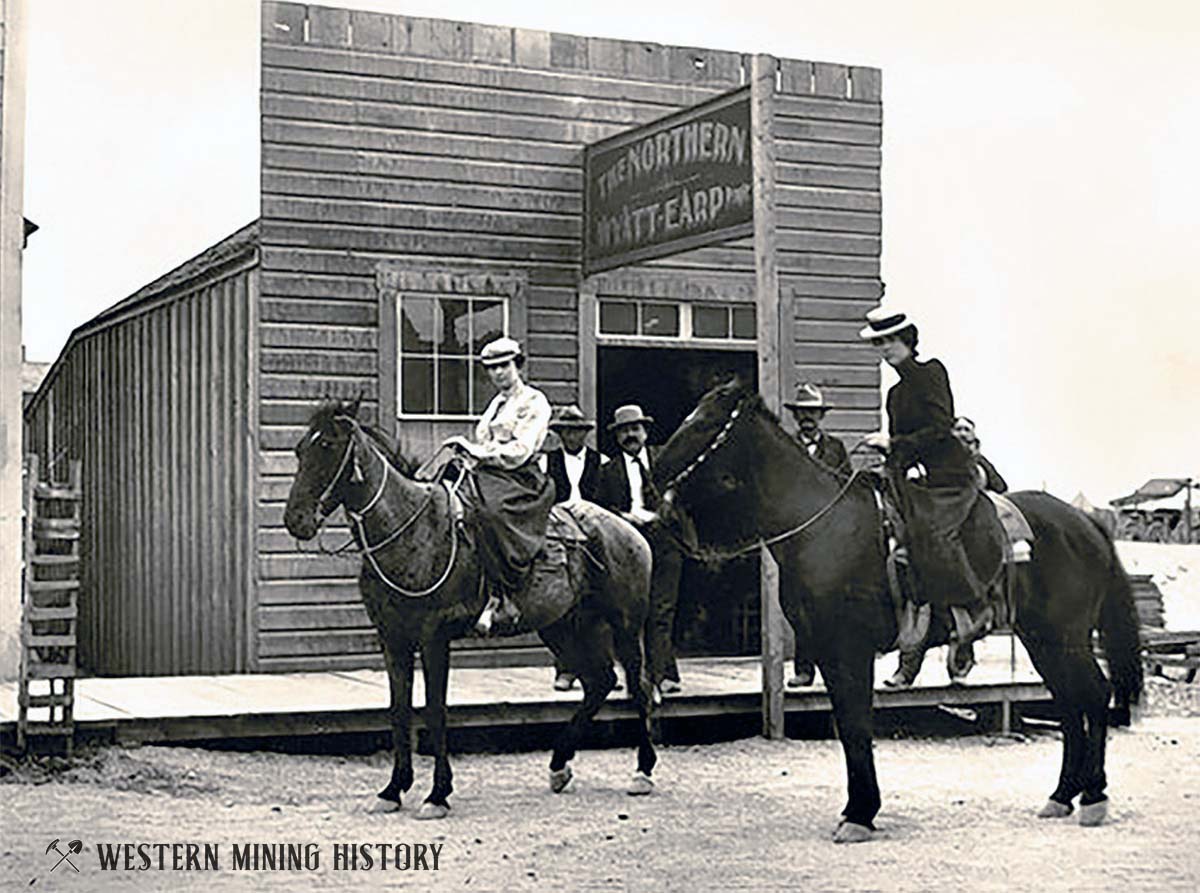 During this period, Tonopah was experiencing some stagnation as there was little left for prospectors to discover, but the business of large-scale mining was not yet fully developed. After being in Tonopah for less than a year and a half, Wyatt decided to sell his interests there and move on in 1903. Within a few years of his departure, Tonopah had evolved into one of the West's most important mining cities, and one has to wonder if Earp ever regretted leaving when he did.
During the first decade of the 1900s, Nevada was experiencing a period of great excitement as many important new gold and silver discoveries were being made. Although Wyatt had only dabbled in mining in the past, while sticking to his preferred professions as saloon keeper and sometimes lawman, after leaving Tonopah he took on the life of a prospector, while spending winters in Los Angeles.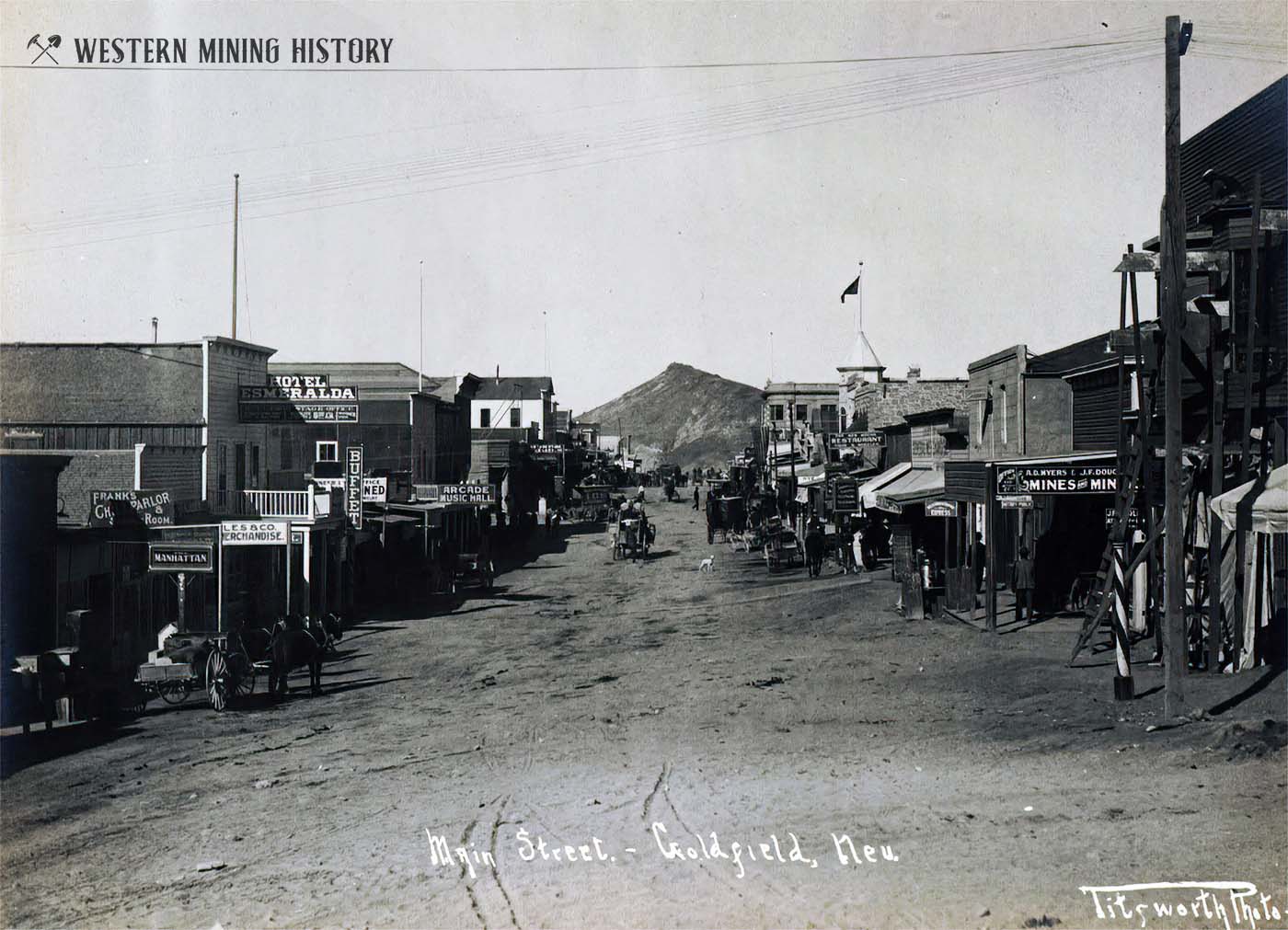 During the winter of 1904-1905, Wyatt put together a prospecting outfit to head once more to Nevada, this time to Goldfield, where a great gold rush was drawing thousands to the new town.
The January 12, 1905 edition of the Los Angeles Evening Post-Record reported on the Earp's Goldfield adventure, stating that "wherever was a new gold camp, a new oil field, a new place in which money was plentiful, there could be found Wyatt Earp, quiet, careful, but deadly in his own defense." The full article contains some interesting details and is included at the bottom of this page.
Virgil Earp was an Esmeralda County deputy sheriff at Goldfield, and Wyatt's friend Tex Rickard had opened a saloon there, called the Northern, the same name as Wyatt's business in Tonopah. Wyatt worked briefly at Rickard's saloon as a pit boss.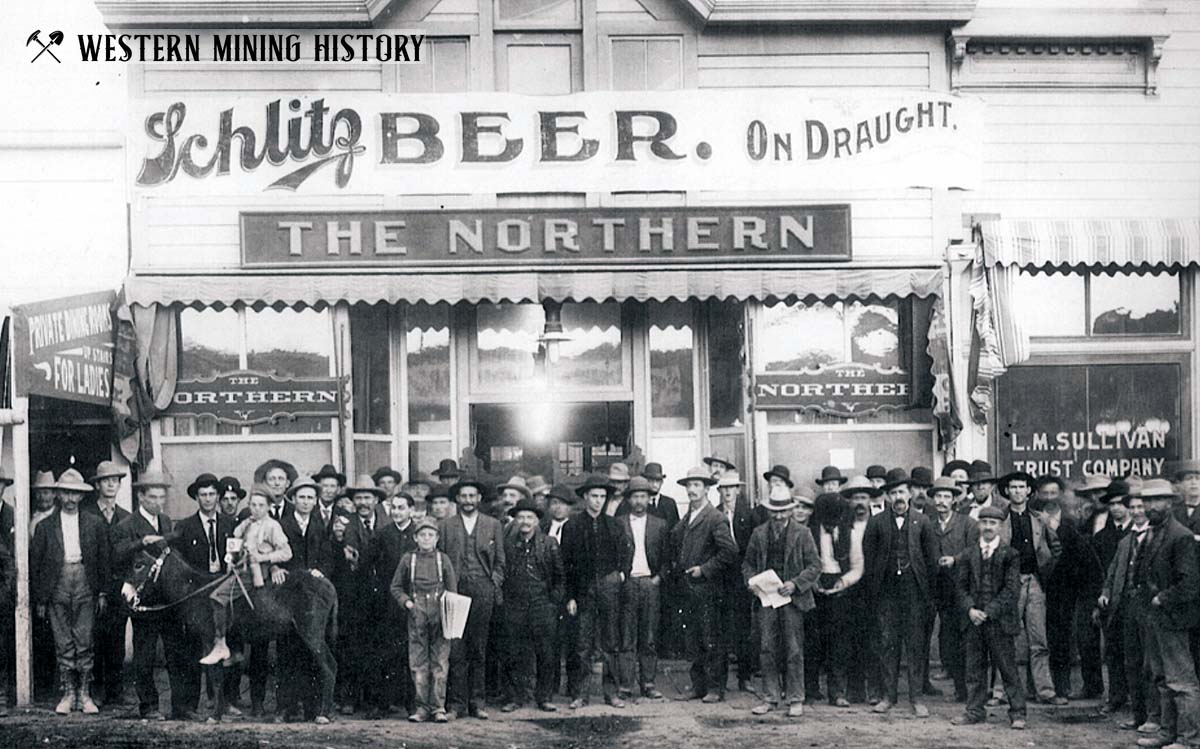 Tragedy struck that year as Virgil succumbed to a long bout of pneumonia, he died on October 19, 1905. Wyatt left Nevada and spent most of his latter years in California.
Wyatt Settles in California
Wyatt speculated in oil and copper mining claims and is known to have staked a few claims in the area near Death Valley and elsewhere in the Mojave Desert. In 1906 he discovered gold and copper deposits near Vidal California in the Sonoran Desert and filed more than one hundred mining claims along the Colorado River near California's Whipple Mountains.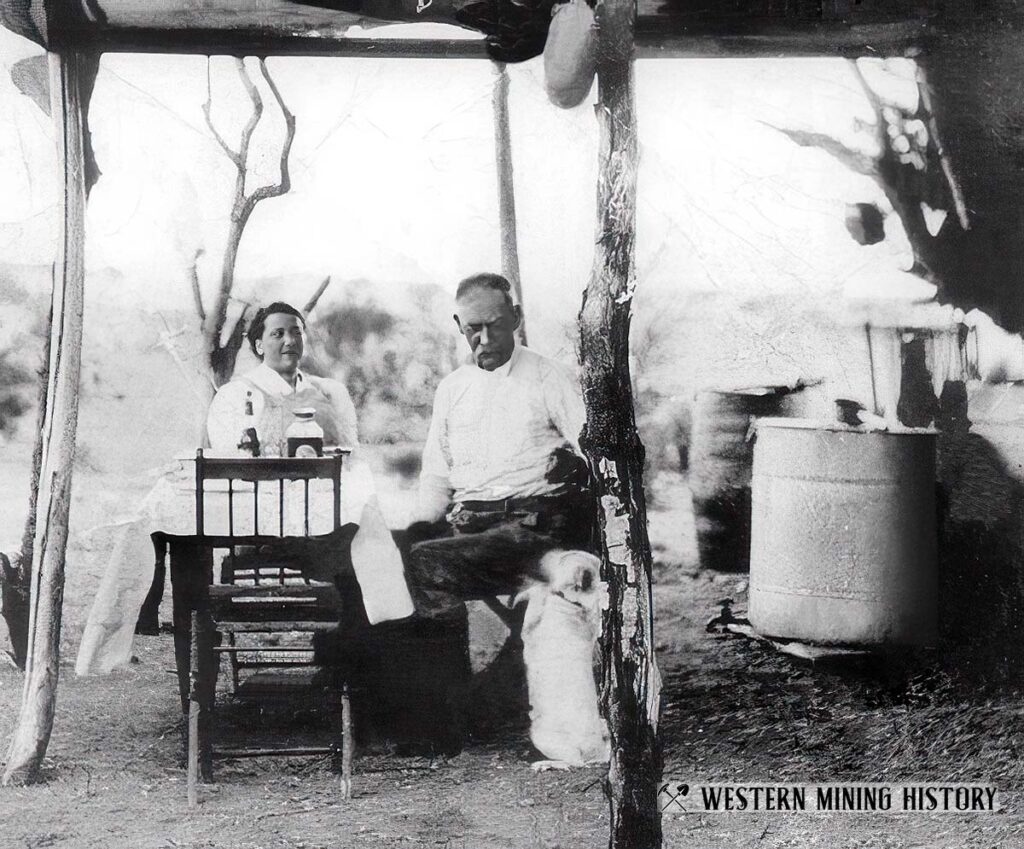 He worked his mine at Vidal, with ever-faithful Josephine by his side, as seen in the photo above. The couple spent most of the year working the mines and spent some summers in Los Angeles, where Wyatt was once more was roped into the work of a gunman in 1910 when he became involved in the Mojave Desert Potash Wars.
After an arrest in Los Angeles in 1911 for fleecing a realty broker in a fake faro game, Wyatt seems to have had enough of life at the edge of the law. He bought a small house in Vidal, California, said to be the only house he ever owned, where he died on Jan. 13, 1929. He was the last of the Earp brothers.
The era of Drago's "half-mythical cowboy" was over.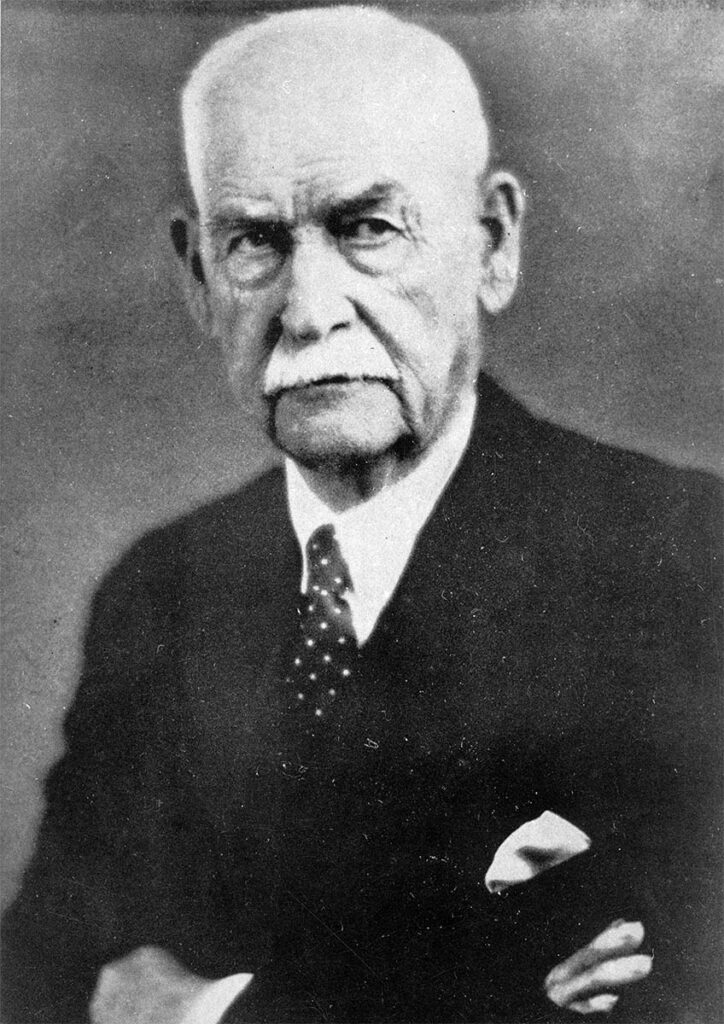 Wyatt Earp, Veteran of Gun Fights, Starts for Goldfield
From the January 12, 1905 edition of the Los Angeles Evening Post-Record.
He Carries His Trusty Winchester, but Says It's Only for Game.
Wyatt Earp is afield once more. The veteran of a hundred gun fights started for Goldfield, Nev., with a four-horse wagonload of camp supplies, Thursday, and will take a month or six weeks for the trip.
The only visible relic of the old time Wyatt Earp is a Winchester rifle which he has carried up and down the Pacific coast from Nome to Mexico for 15 years. This trusty gun is only taken along for the chance that may come to shoot game on the trip.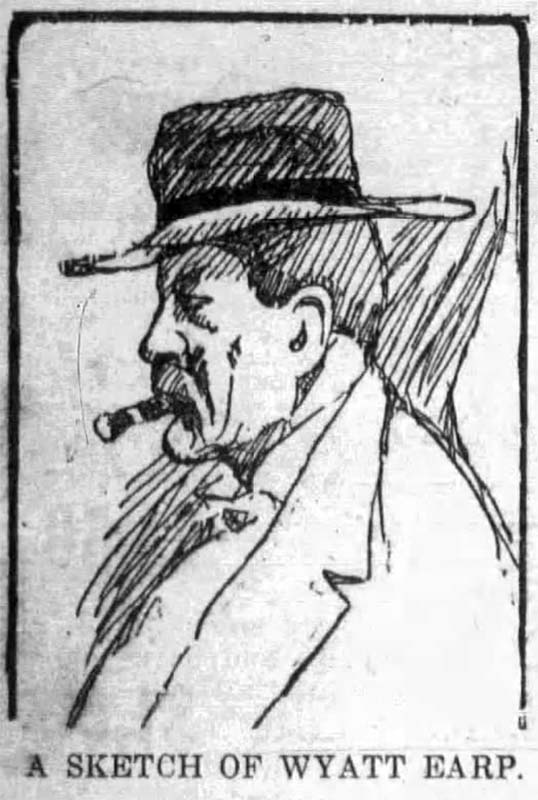 Wyatt is a gun fighter no more. He has forsaken the green cloth and the faro bank for the life of a miner, and intends to develop and prospect some claims which he owns in the Bullfrog district near Goldfield.
The old-time Earp flashes out once in awhile and the years spent in the saddle serve him in good stead, now that he is making another overland trip.
He says that he will never shoot at a man again, and adds, "unless he shoots at me first."
"All I want is to make a stake out of my claims, and that's what I am making this trip for.
"I located several good prospects when I was in Goldfield three years ago, but I walked right over the Goldfield ground without knowing there was anything in it."
Mrs. Earp goes along and the stout wagon is fitted for most comfortable camping out–tents, cook-stove, bedding supplies and all, including the old Winchester.
Wyatt Earp is past 60. For years he and his brothers ran Arizona to suit themselves.
Finally one brother was killed and the rest returned to the paths of peace.
Wherever was a new gold camp, a new oil field, a new place in which money was plentiful, there could be found Wyatt Earp, quiet, careful, but deadly in his own defense.
Earp can be quiet, and he has been noisy, but like Bat Masterson, Miles Finlen and others of the old six-shooter school, he prefers peace and quiet, and men of that class generally get what they want.
Aftermath of the Gunfight at the OK Corral
It is often overlooked that the events surrounding "Gunfight at the OK Corral" occurred during one of the most important silver mining excitements in US history, and many of the region's mining camps and towns played a part in the events that unfolded.
Aftermath of the Gunfight at the OK Corral takes a look at what happened during and after the famous gunfight: thousands attend the slain Cowboy's funeral, the Earps find themselves in legal and financial trouble, and the Cowboys gang is out for revenge.