From the Cripple Creek Morning Times, February 15, 1896
"Big" Ed Burns, one of the most notorious characters in the West, was arrested last night by Officers Clark and Reynolds. Burns is known all over the United States, and has been known to turn a bunco trick in St. Louis and Chicago on the same day. He will do anything from robbing a coop to a gold brick swindle. He was in Leadville in he early days and was mixed up in a killing in Chicago. He has been chased out of all the larger cities in the West, but strange as it may seem, has only done about eight years all told.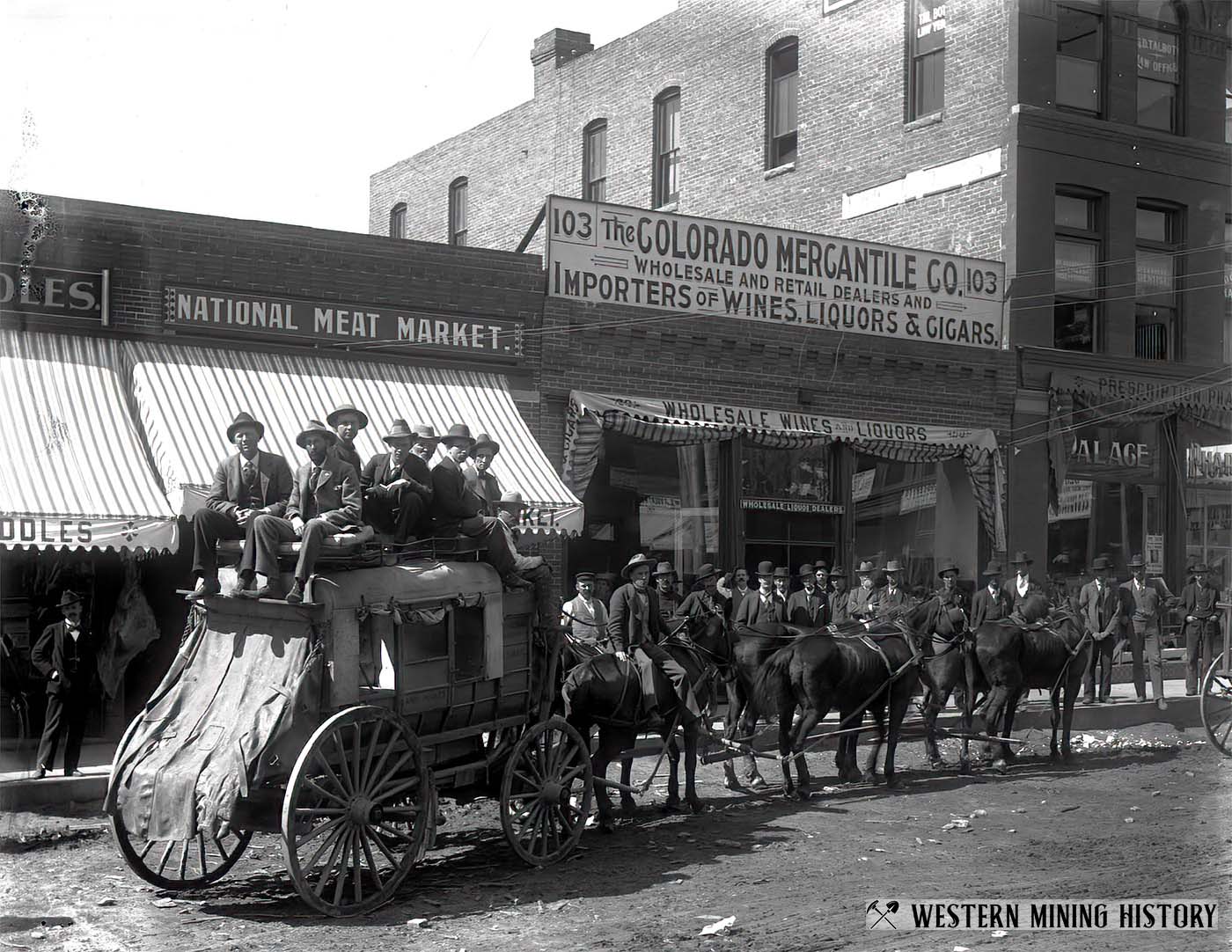 He usually has a gang of men around him that are as desperate as himself, and the community where they stop suffer greatly from the depredations inflicted by these men.
In 1889 a man was shot and killed in the Palace theatre In Denver, which was then run by Bat Masterson. Burns and some of his men were in the house at the time and before the victim of the unknown assassin had breathed his last, Burns had robbed him of a large diamond stud. He escaped the officers and left the country and was never punished for the offense. He hes been arrested for robbing hen roosts and selling brass bricks for solid gold.
The brick scheme was worked by him more successfully than his other games, as he invariably caught his man at night and sold him the bricks under the shades of darkness.
His appearance helped him on his scheme, and when he was making a "front", would resemble a man of considerable means. He is about six feet one inch tall, has a rather good looking face. His stomach is enormous and he weighs about 240 pounds. When he "lies up" for a front he wears a silk hat, a long Prince Albert coat, patent leather shows and his shirt front a cluster of diamonds. He also wears a very large diamond ring on his right little finger and carries a heavy gold headed cane in the same hand.
When dressed thus, he is ready to sell gold bricks. When working this he stops at the best hotel in the city and becomes acquainted with all the prominent men stopping there. He picks out a man who he thinks is the easiest worked, and in confidence tells him about some gold bricks, which he owns. He don't want to sell them, O no, but would like to borrow some money on them.
The man would look at them and that night they would take the bricks in a grip and go out of the city limits to be away from prying eyes. Here they would open the grip, take out the bricks and with a file scrape the edges into a paper and take these to the city to have them tested. Of course the filings would be gold and the next night the money would be loaned.
When the time expired for the bricks to be redeemed the man who held them took them to the mint or a jeweler to be sold, when he found their spurious nature. In the meantime Burns would be swelling around another part of the country on the money gained in this way.
Where Burns has been for the past three years no one seems to know. He arrived yesterday morning and slept in jail last night. He arrived alone but his men are supposed to be on the way and they will be "landed" as soon as they arrive. The charge of vagrancy is placed against him and he will be given hours to leave. He says he came in from Pueblo, but it is thought he came from Oklahoma.