Most dogs in the western frontier were considering working dogs—usually hunting, killing rodents, or guarding the prospector's camp or cabin. Occasionally, as seen in the photo or the Alaskan Prospector below, they filled the role of pack animal.
These dogs often appear in photos of miners and mining towns. The images demonstrate one thing conclusively—that the dogs may have been hired for a job, but they were also revered members of frontier homes and towns, and reliable and cherished companions to miners and prospectors.
Miners Pose with Dog at Altman, Colorado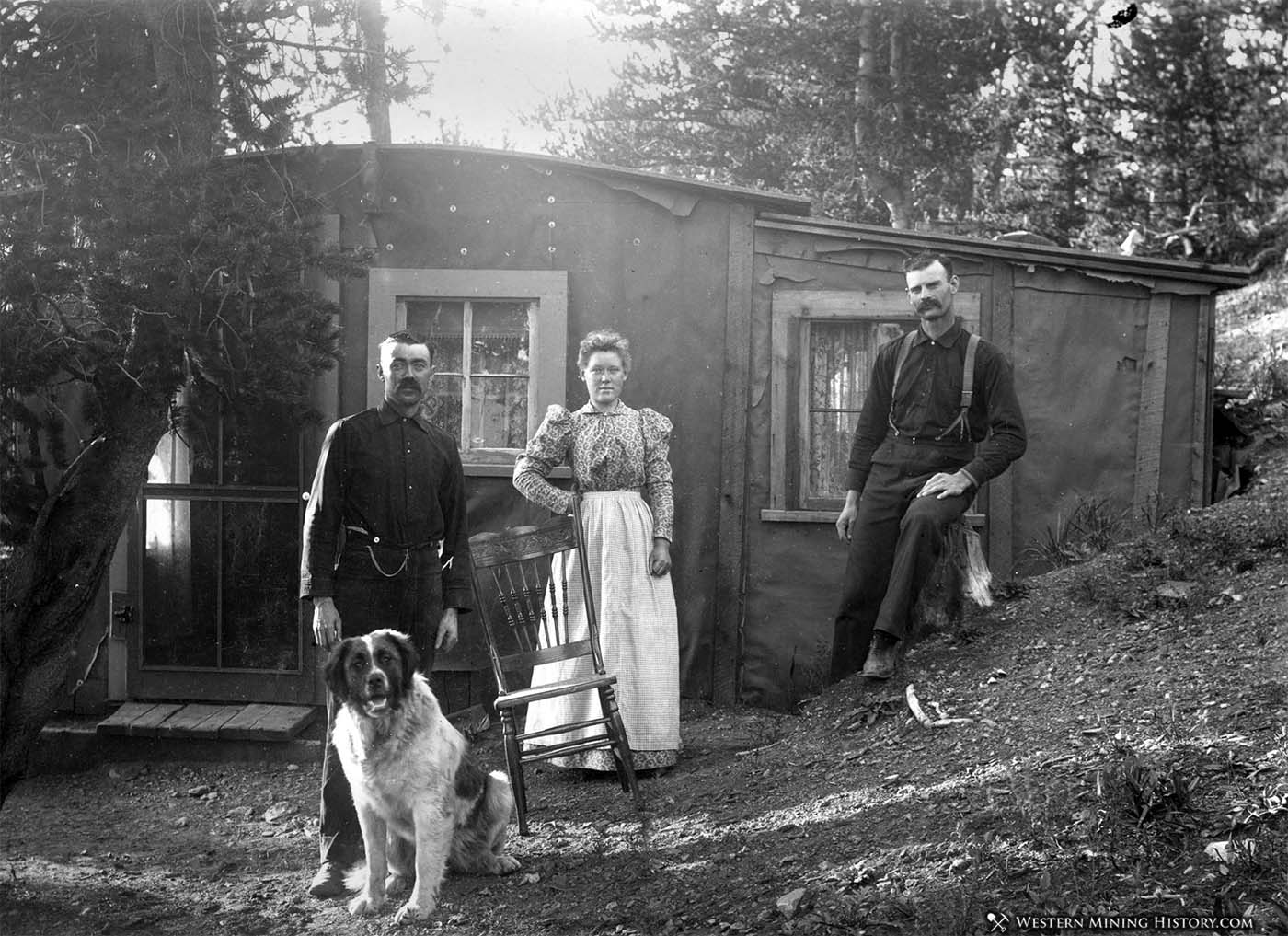 This miner's humble cabin near Altman, Colorado (Cripple Creek district) was situated at over 10,000 feet in elevation. It certainly must have felt warmer with this big fluffy member of the family inside. Altman is a ghost town now, but was once an active mining town in one of the West's greatest gold districts.
Alaskan Prospector With His Dog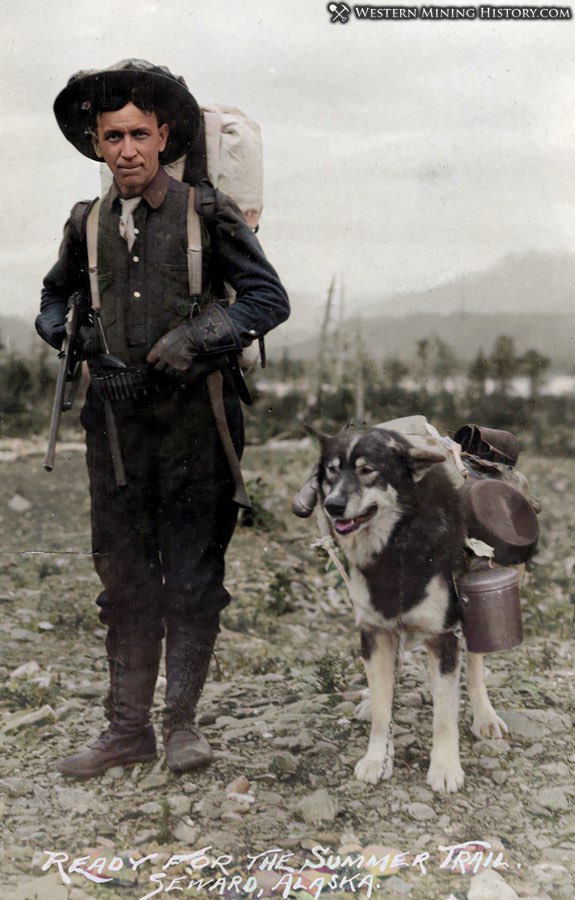 This iconic image of a prospector and his dog was taken near Seward, Alaska sometime between 1900 and 1916. In addition to be a valuable companion in what was a lonely occupation, the dog is packing more than his share of the goods necessary for life in the wilderness.
Dog at the Reigns in Leadville, Colorado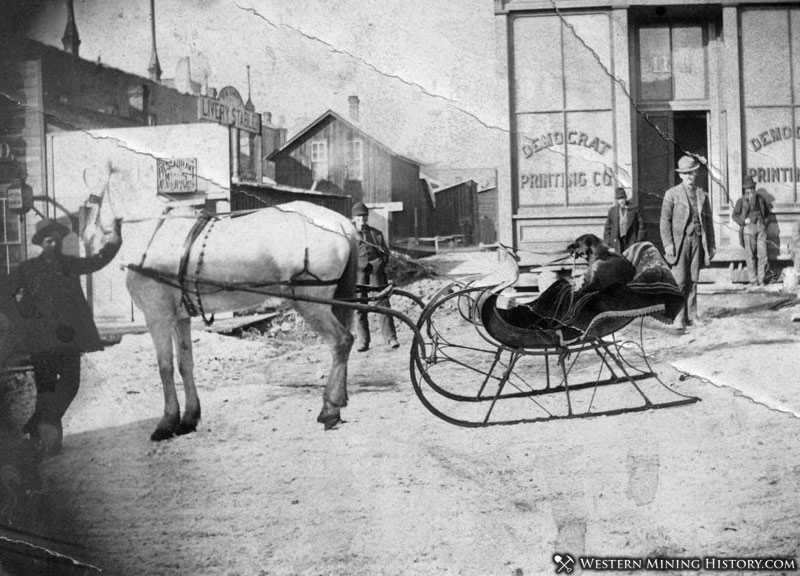 At an elevation of over 10,000 feet, Leadville, Colorado was the state's most important mining city in the 1880s. In this photo a dog takes the reigns of a horse-drawn sleigh.
Miner Poses With His Dog at Silver Plume, Colorado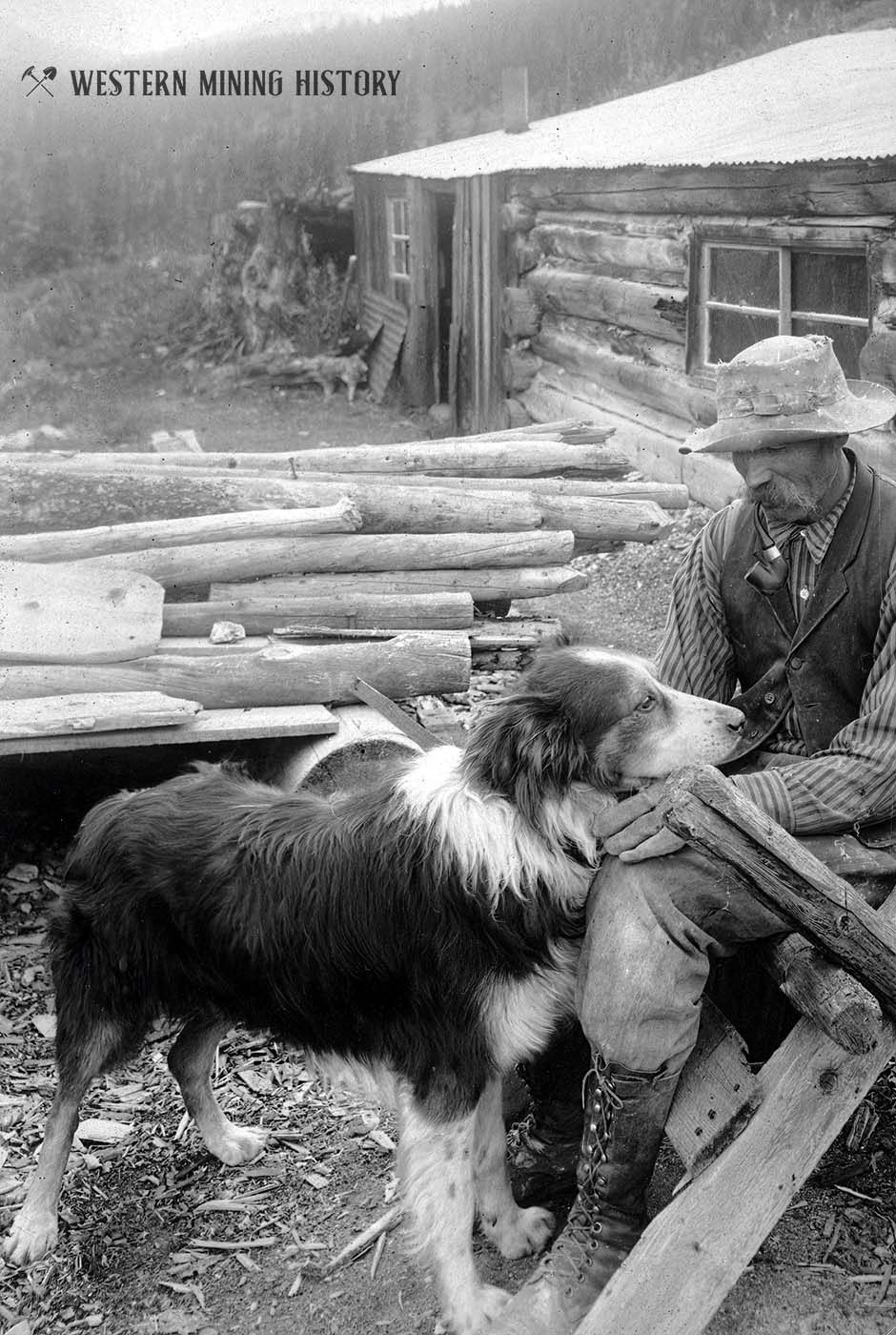 This photo of a miner with his dog was taken near Silver Plume, Colorado around 1900. The photo is further proof that although dogs were largely kept as working animals, they were still cherished by their owners.
Tough Crew of Colorado Miners and Their Dog
This late 1800s era photograph from Colorado shows a tough looking bunch of miners at their cabin. Even the toughest pioneers enjoyed having a dog around.
Dog Poses with Boarding House Staff – Silver City, Utah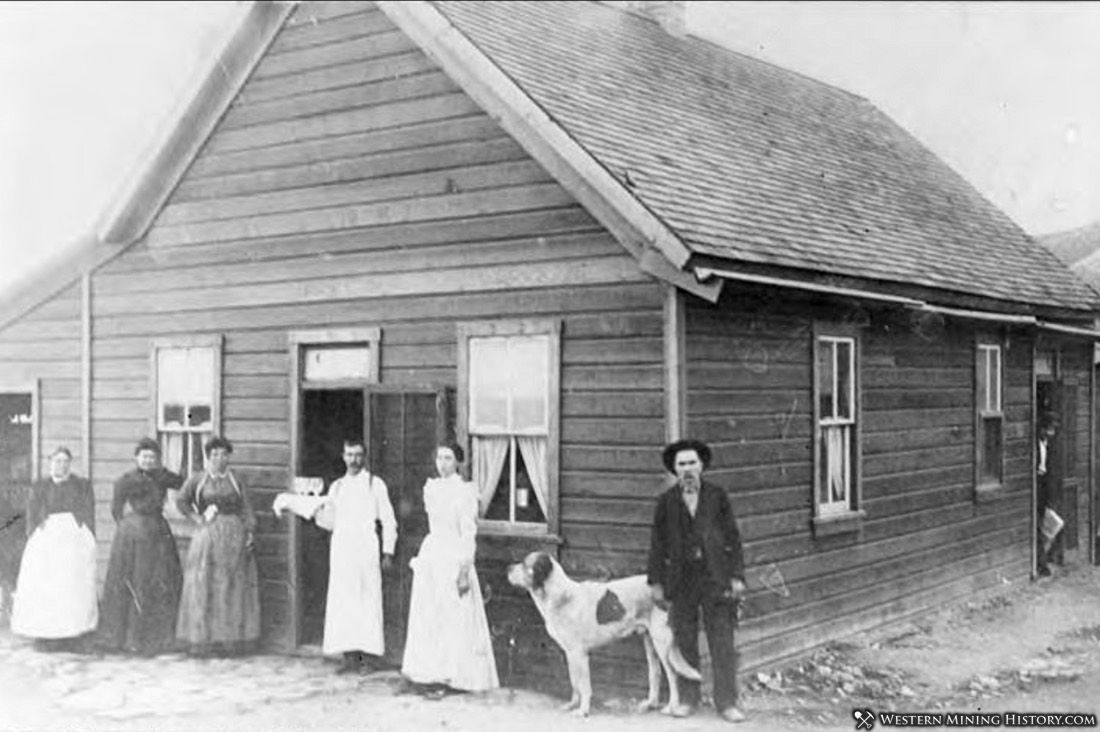 A photo of this boarding house in Silver City, Utah wouldn't be complete without the resident dog posing with the staff. Note how many large breed dogs there were in the West – these were often used for hunting.
Dog Takes Center Stage at Nevadaville, Colorado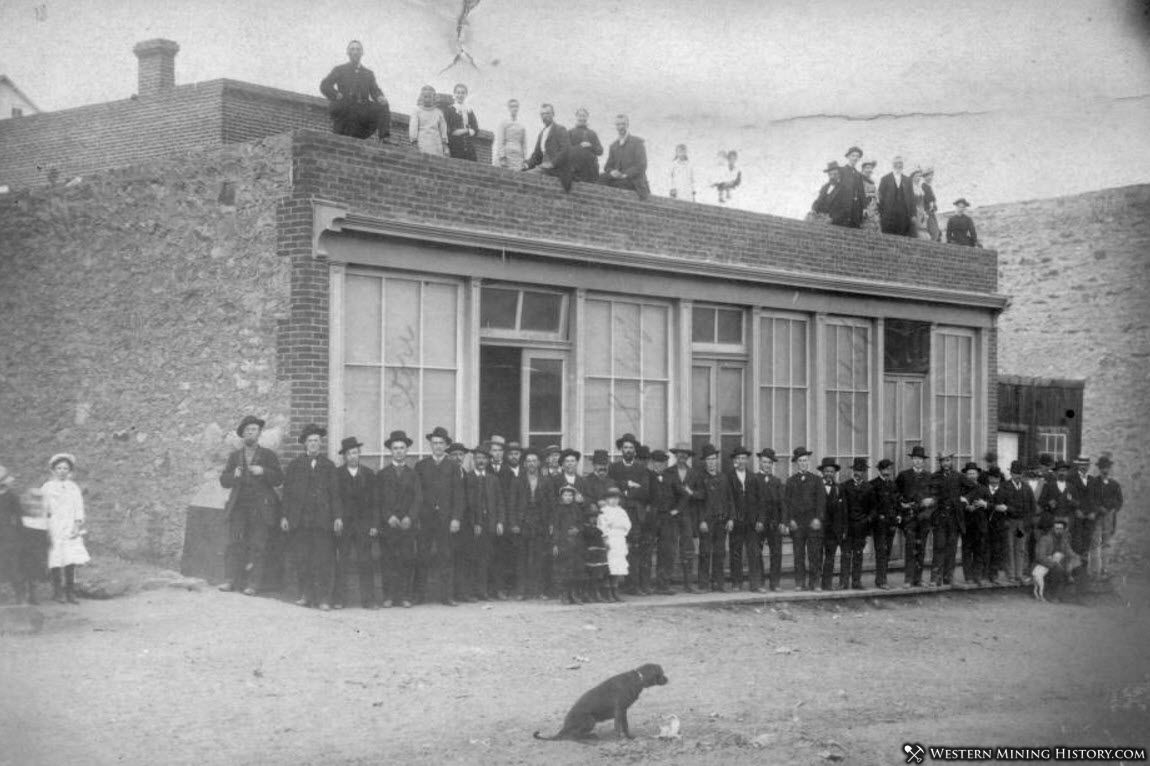 Photobombs may be a regular feature of the internet today, but dogs invented the art over 100 years ago. This dog gets into a photo of the citzens of Nevadaville, Colorado, but nobody seems to mind. Note the small dog being held by a man at the right of the photo.
Family and Dog Inspect Home Wreckage at Mace, Idaho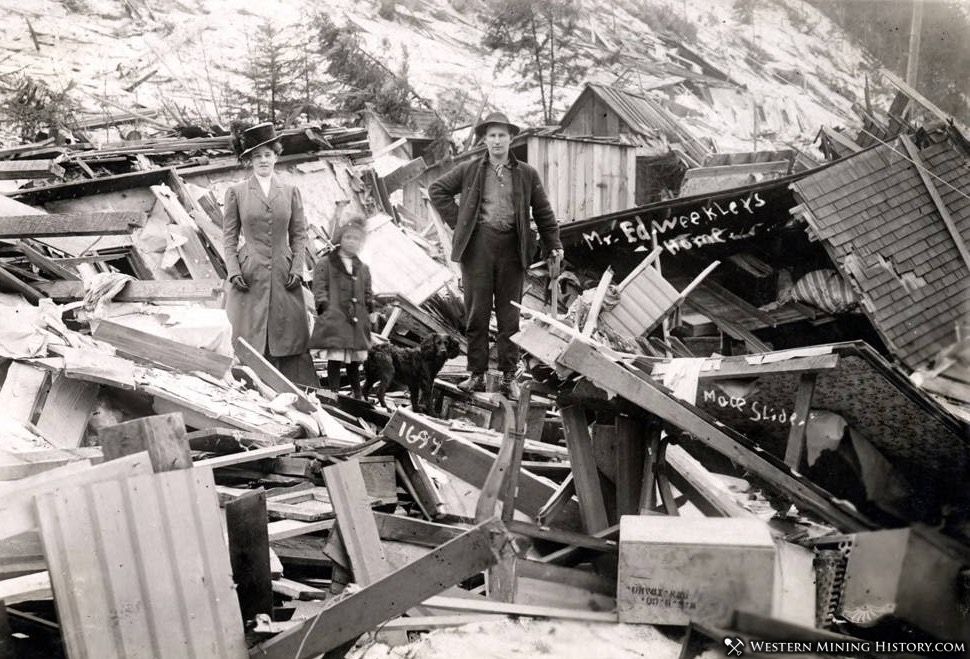 The silver mining town of Mace, Idaho was prone to snowslides and was almost completely destroyed by one in 1910. This photo captures a family inspecting what is left of their home after the 1910 slide destroyed it. Even in times of tragedy the family dog was present and ready to help.
Dogs Pose With Their People at Sneffels, Colorado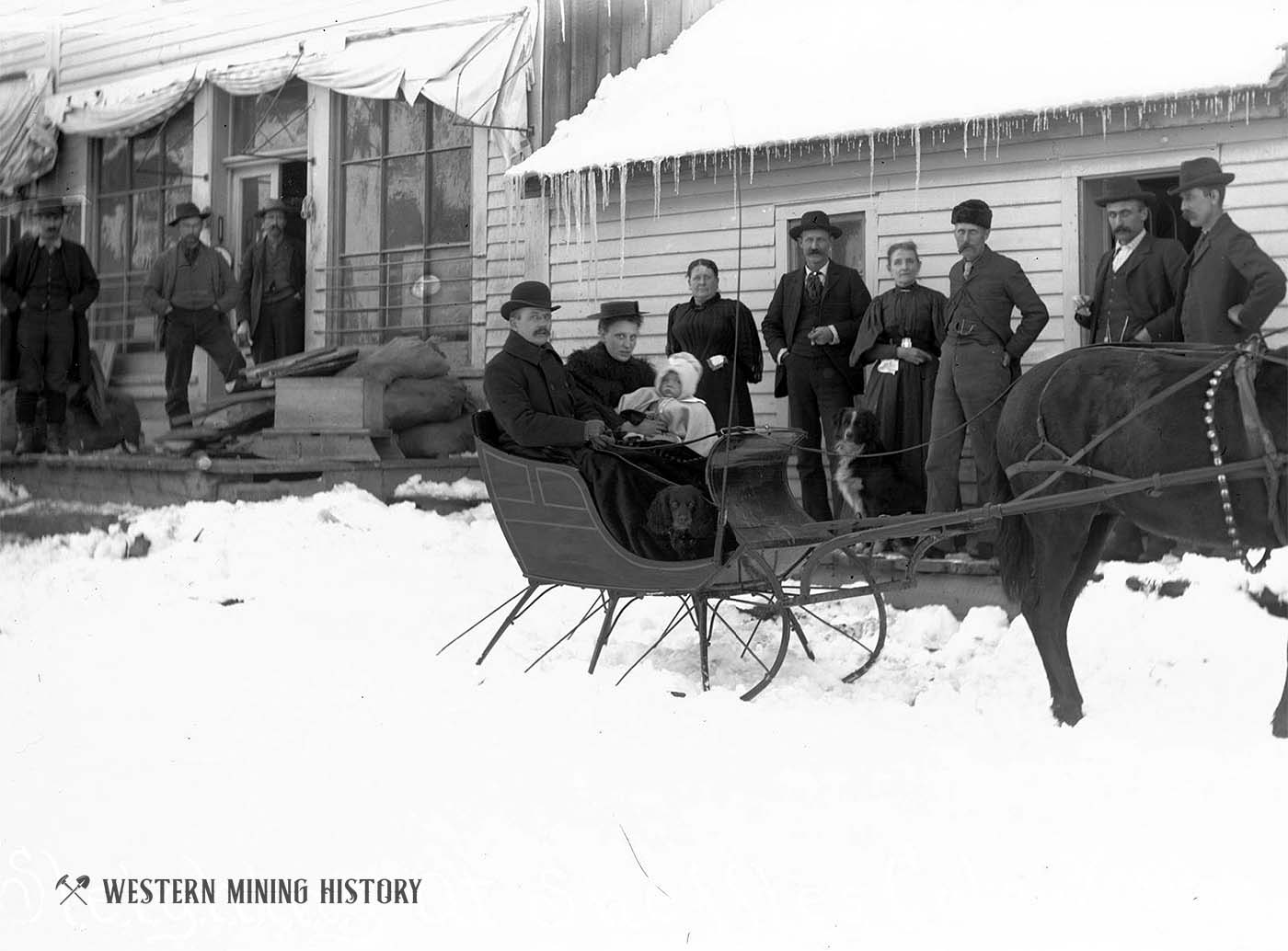 At over 10,600 feet, Sneffels, Colorado was one of Colorado's highest elevation mining towns. In this photo a family with a baby is traveling in a horse-drawn sleigh and the family spaniel rides with them. Another dog poses with the crowd behind the sleigh.
Thunder Mountain, Idaho Pioneers Pose With Dog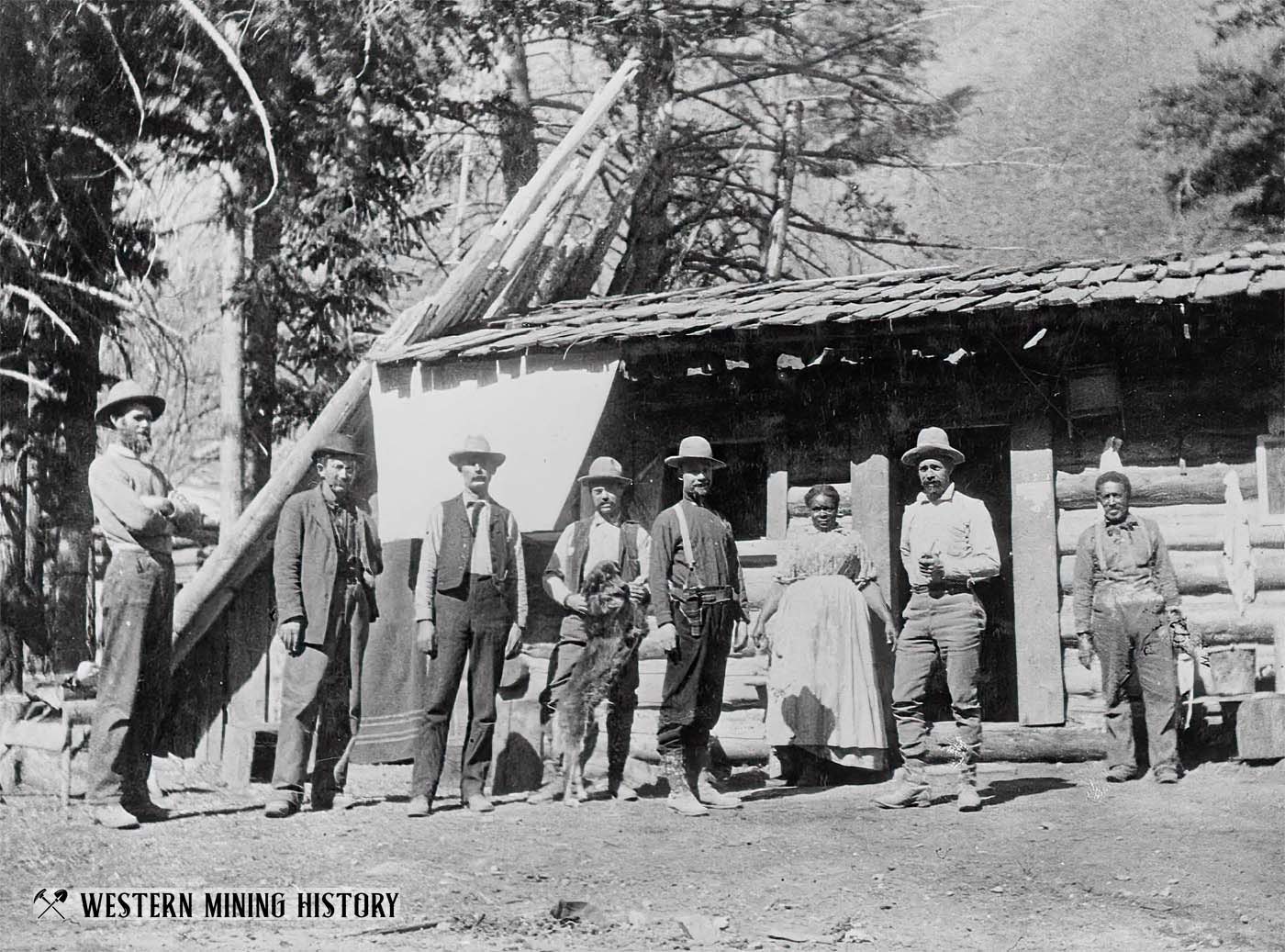 The 1902 rush to Thunder Mountain, Idaho occurred just as winter was setting in and resulted in a disastrous situation where the remote camp was completely out of food and hundreds faced starvation.
By 1904 when this photo was taken, the camp had recovered and the business of mining had replaced the basic struggle for survival. Photos of Thunder Mountain often depict dogs as an important part of camp life.
Dog is Part of the Mine Crew at Kennett, California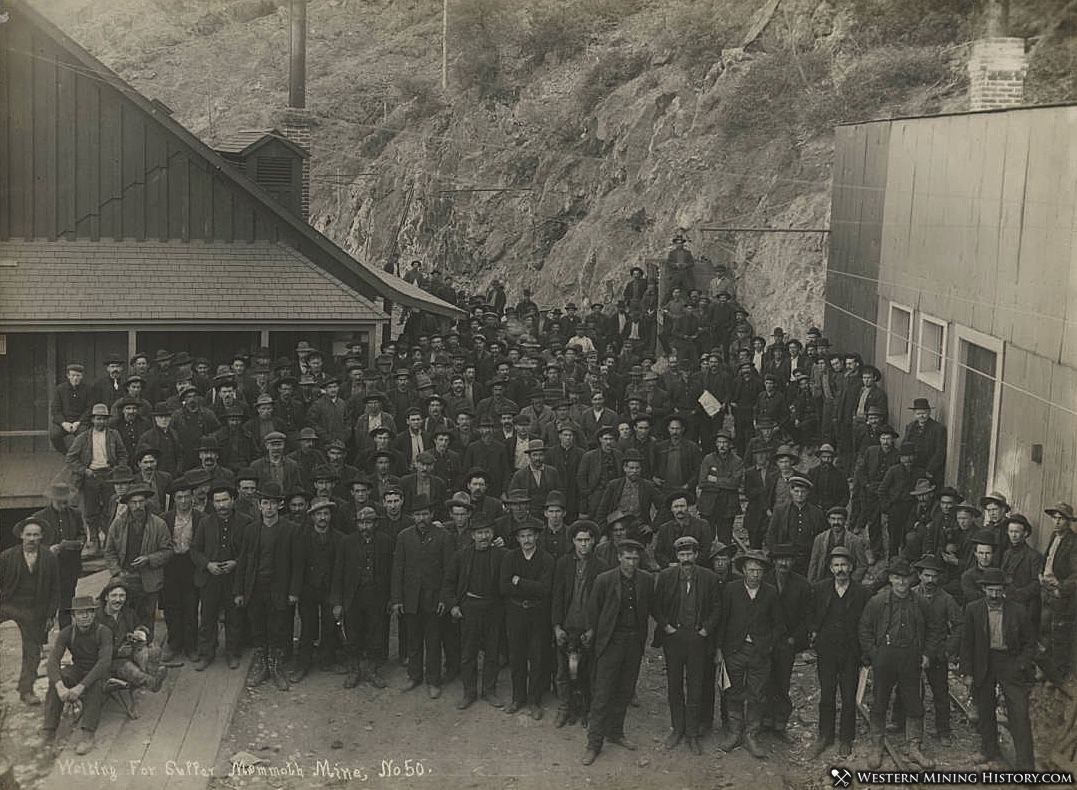 Kennett, California was a copper mining town in Northern California. Copper camps were ususally large industrial affairs rather than loose collections of log cabins that typified prospectors camps in the West. Despite that, dogs still had a place in the community.
The photo above shows hundreds of men assembled for supper at the mess hall and one honorary dog being posed for the scene.
Giant Bull Gear at a Virginia City, Nevada Foundry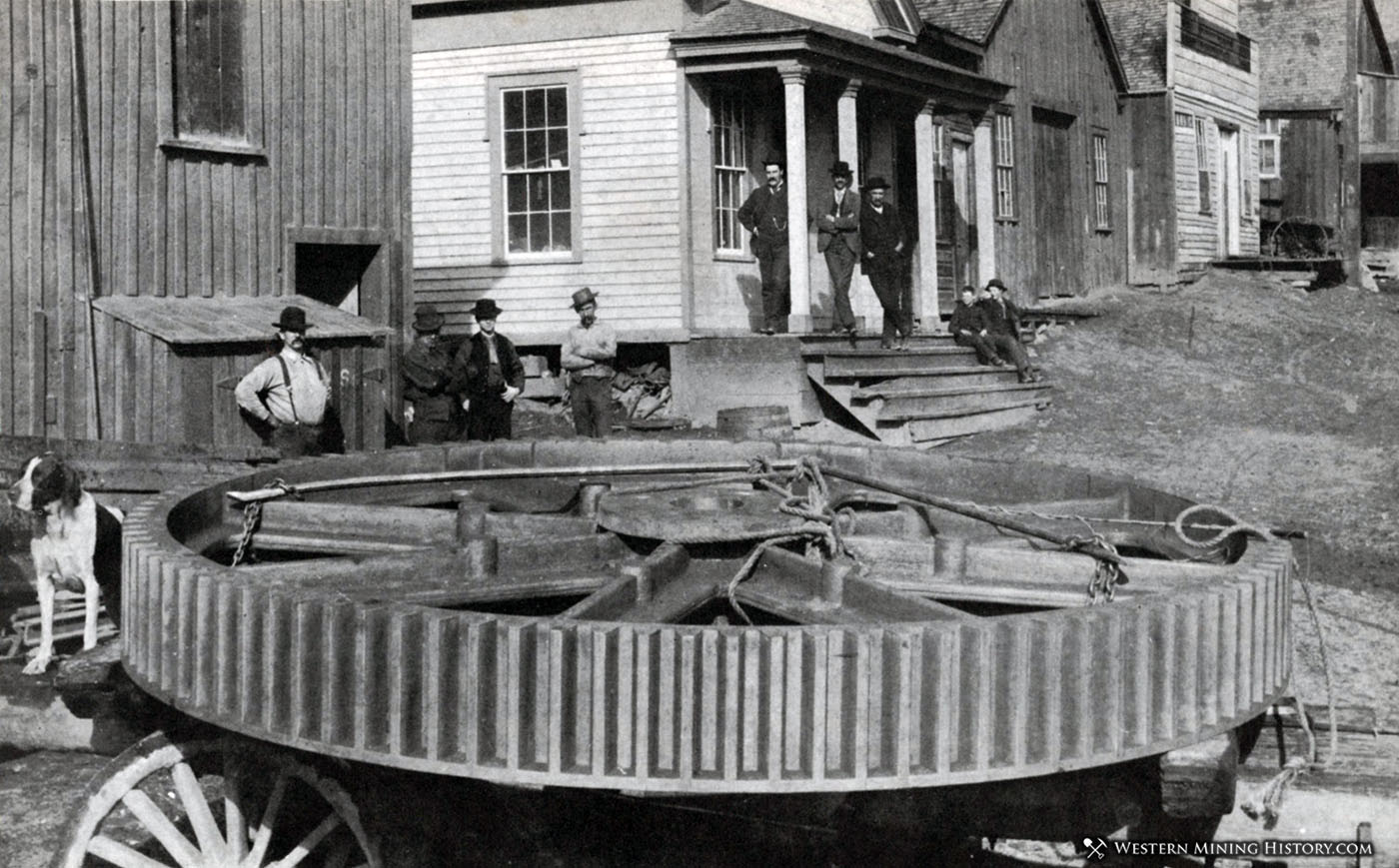 The silver mines at Virginia City, Nevada experienced what was referred to as the "Great Bonanza" in the late 1870s. The silver ore was incredibly rich, but also very deep in the ground. Extremes of heat and high water tables also complicated mining efforts.
The difficulties of the Virginia City mines spurred the development of new technologies and mining equipment at scales never previously seen. In the photo above a massive bull gear is leaving the foundry, and trusted spaniel oversees the delivery.
Dog Poses at Frontier Pawn Shop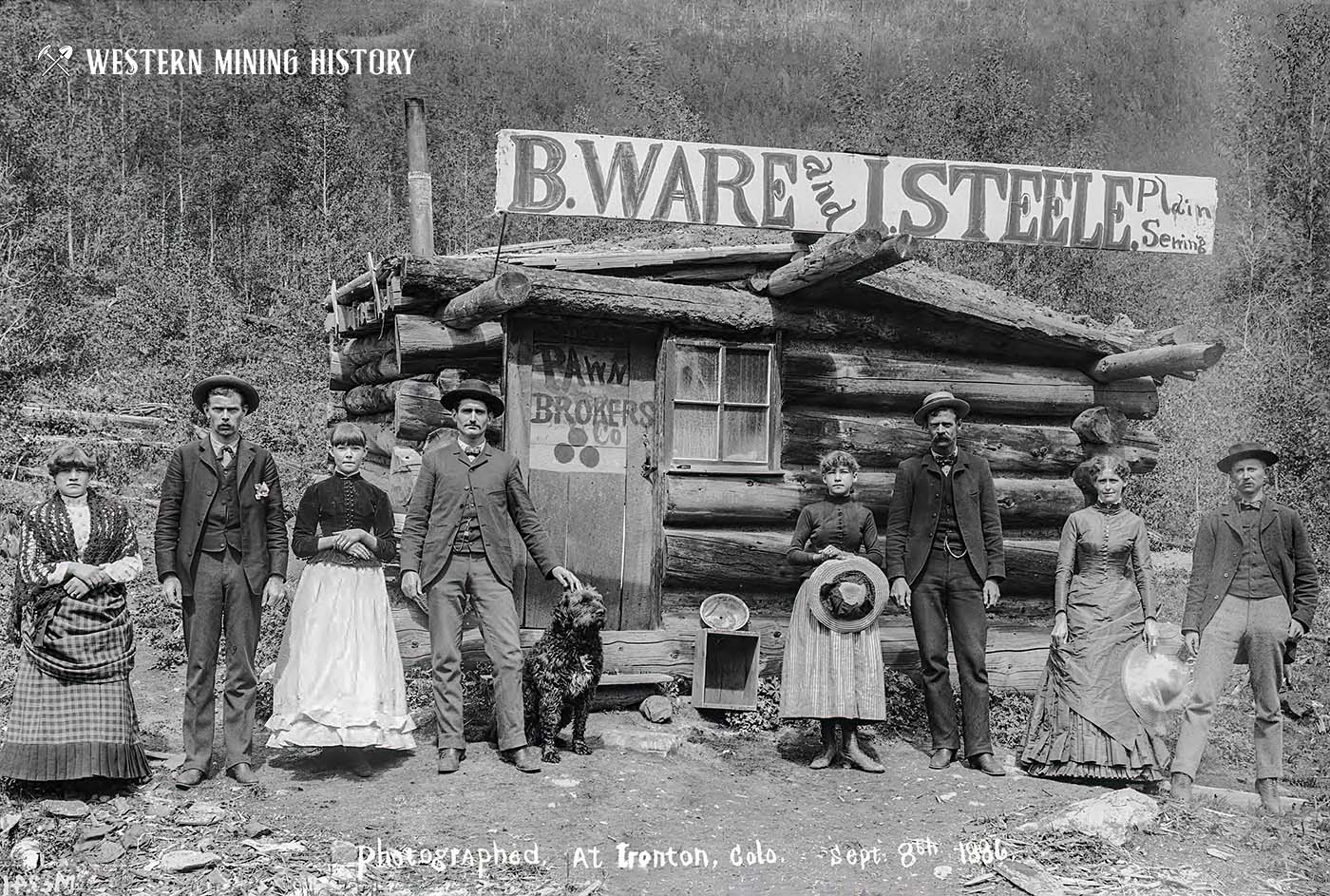 This comically named pawn shop in Ironton, Colorado demonstrates that the pioneers did indeed have a sense of humor, even if they never smiled for photos. Even B. Ware and I. Steele Pawn Brokers had a resident canine.
Pals Asleep at Rawhide, Nevada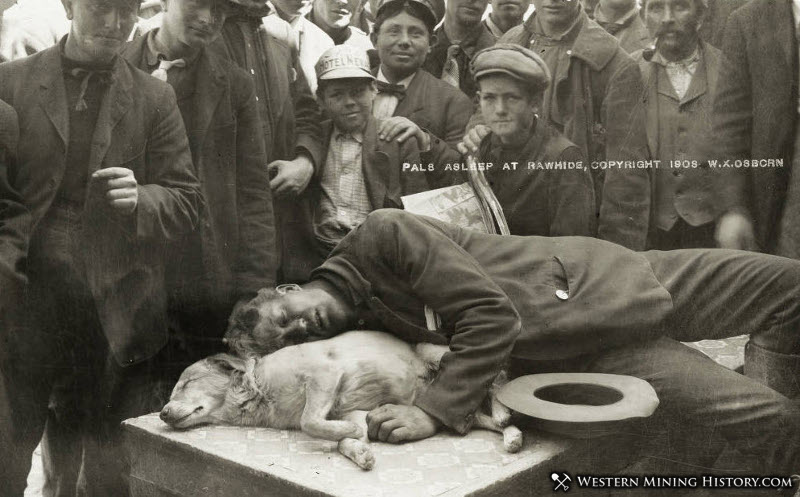 The 1906 rush to Rawhide, Nevada was one of that decade's most important events in Nevada. Thousands converged on the town after rich gold and silver discoveries were made.
Ultimately the mines at Rawhide were not rich enough to justify the size of the rush to the town, but at least some disillusioned miners still had their canine pals to console them.
Dog Greets Travelers at Corona, Colorado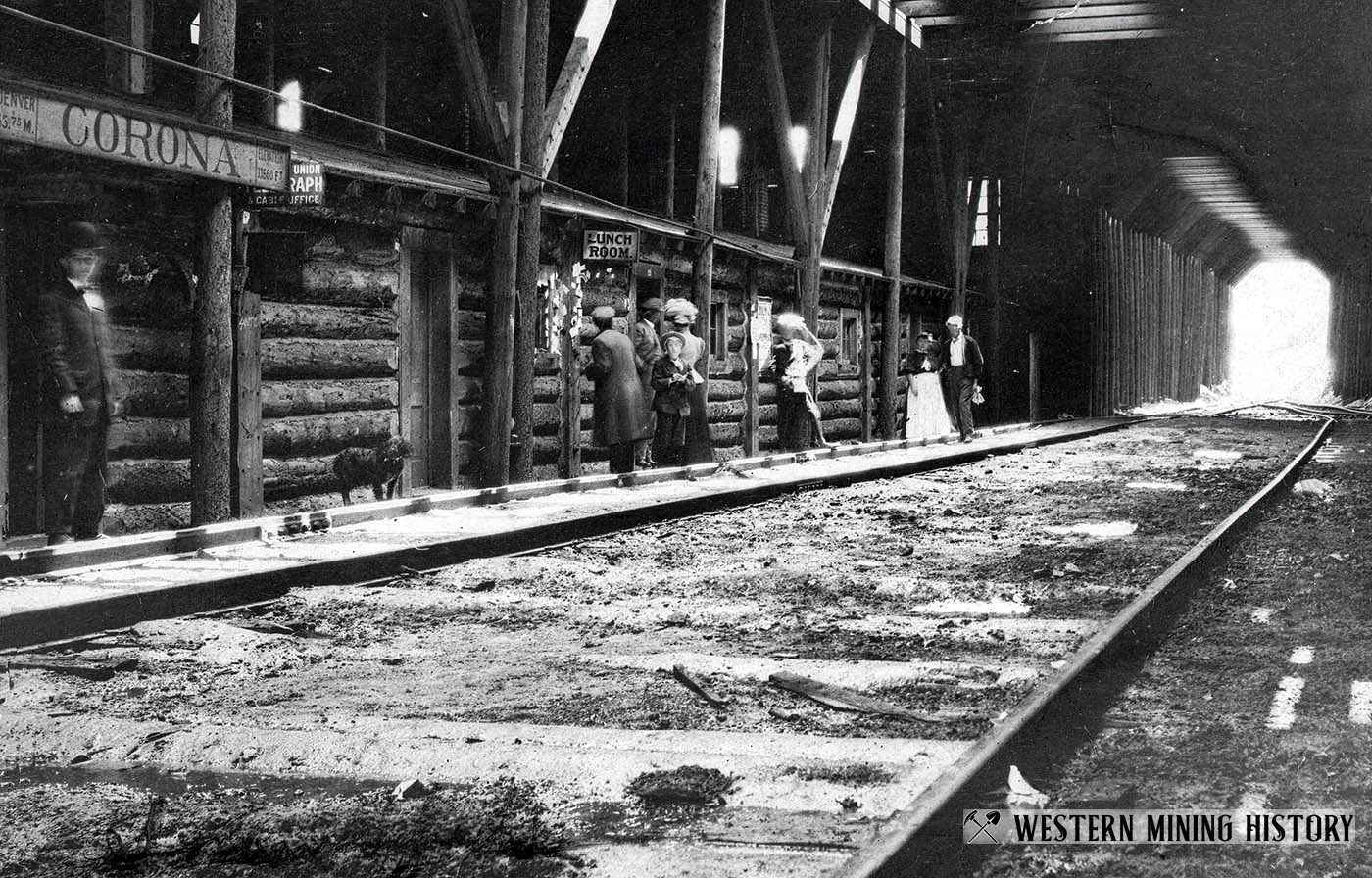 At 11,600 feet, Corona, Colorado existed for one reason – to keep trains running over the the highest altitude standard gauge rail station in North America. Almost the entire "town" was built in giant snowsheds, as illustrated by the photo above.
This was known as one of the most inhospitable locations in the west, where railroad workers "didn't want to be". Despite all that, the station had a little spaniel as seen in the photo – perhaps to hunt rodents, maybe to greet passengers, or likely both.
Spaniel Poses With Miners at Nevada Mine Entrance
Spaniels are one of the more common breeds seen in mining camp photos from the late 1800s. They were primarily hunting dogs although so many of them are seen posing in these photos that "mining camp ambassador" was likely their secondary job.
This colorized photo of miners posing at a mine entrance is available as a high-resolution digital download to subscribers. See more colorized photos of miners here.
The Elkhorn Palace at Rosita, Colorado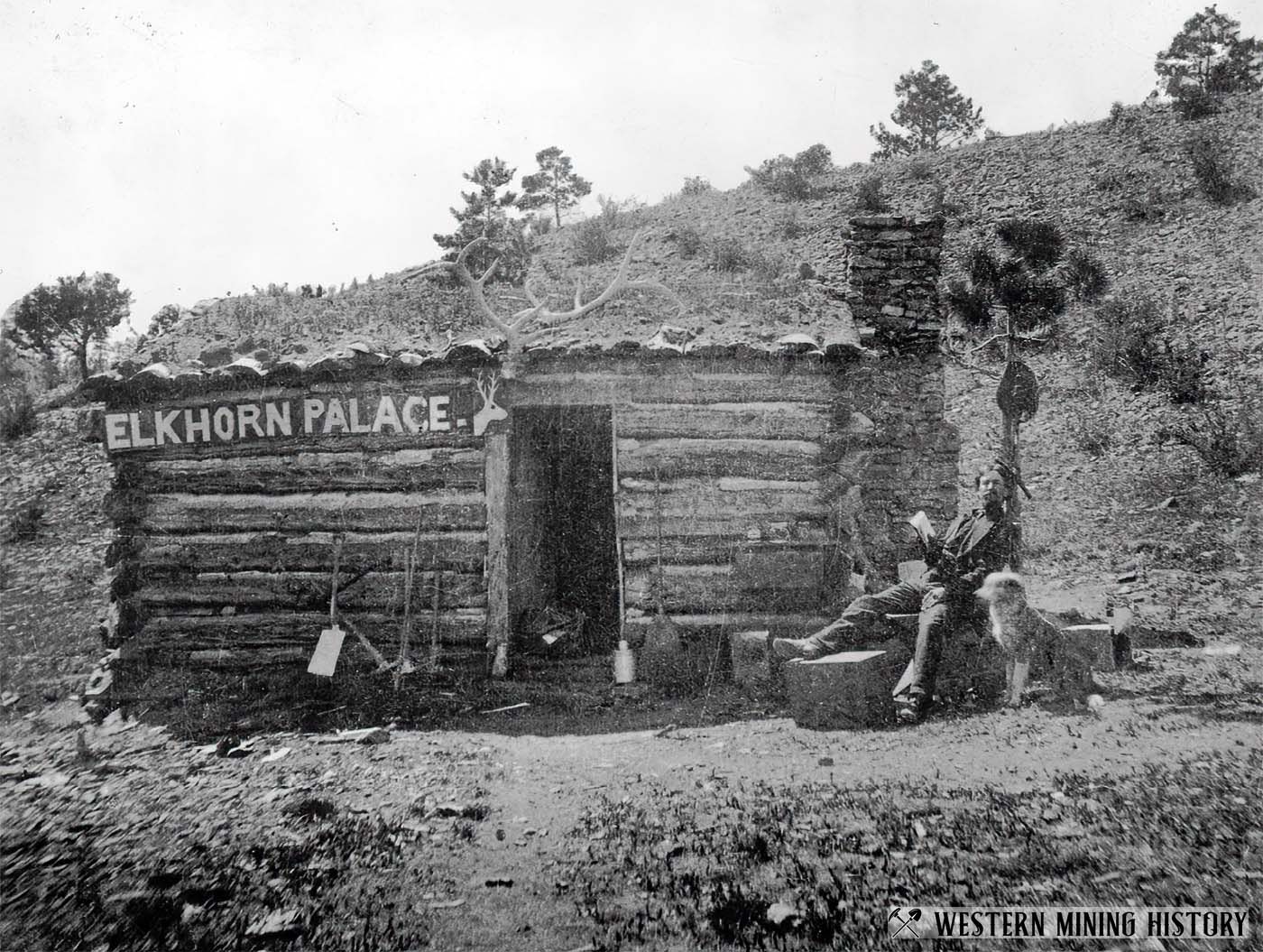 A man at his palace, relaxing with a book and his best friend. Certainly many people these days would exchange their current lives for a few days at the storied Elkhorn Palace. Location: Rosita, Colorado
Dog Poses with Denver & Rio Grande Locomotive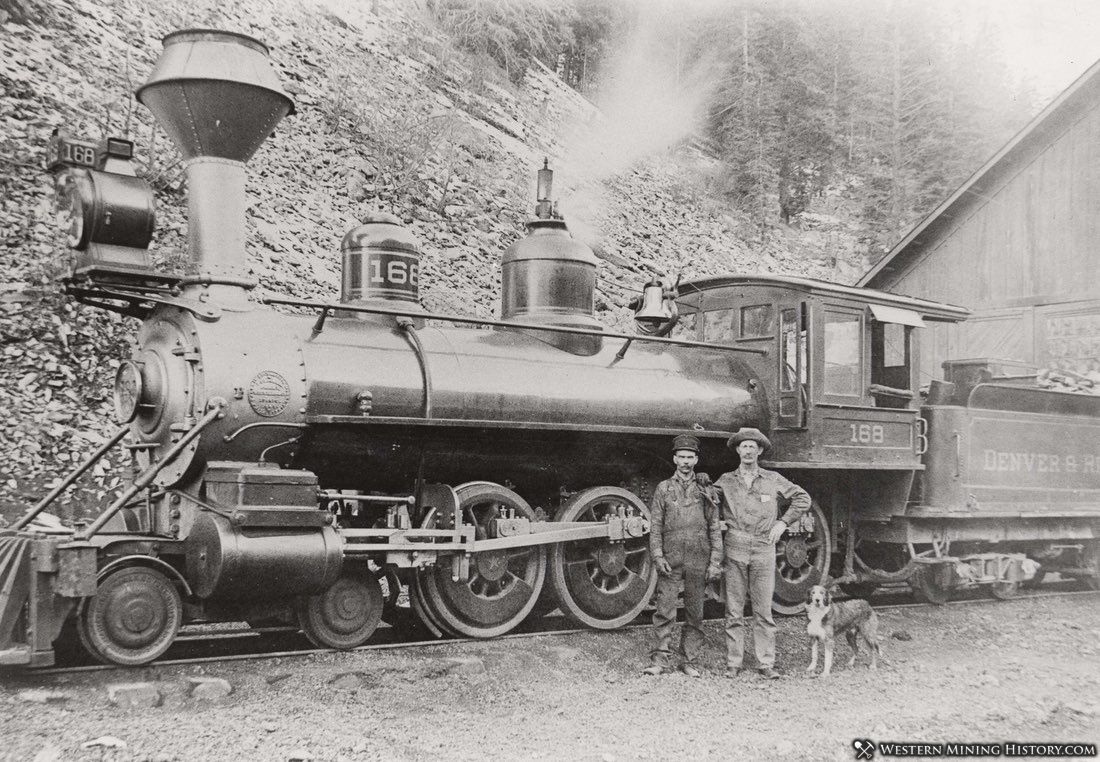 Even rail workers can be found posing with their four-legged friends. Salida, Colorado was one of the West's most important railroad hubs and an important smelting center for the mines of Chaffee County.
Dog Train to Nome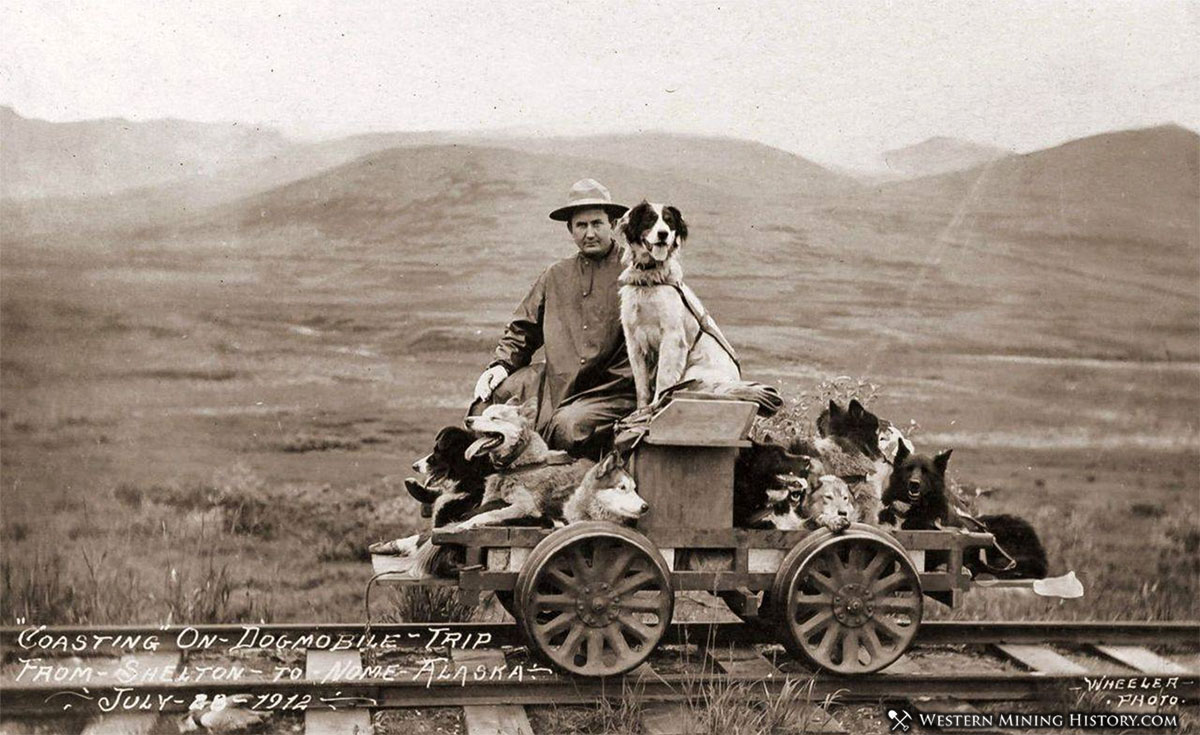 The caption on this 1912 photo reads "Coasting on dogmobile – trip from Shelton to Nome Alaska July 28 1912". The image depicts Walter W. Johnson, a mining engineer and designer of gold and tin dredges, who traveled around the Seward Peninsula on the family "pupmobile" and on horseback.
Johnson wrote on the back of his copy of the photo, "When it was time to coast, the dogs would jump aboard without command."
Miner's Companion at the Boss Mine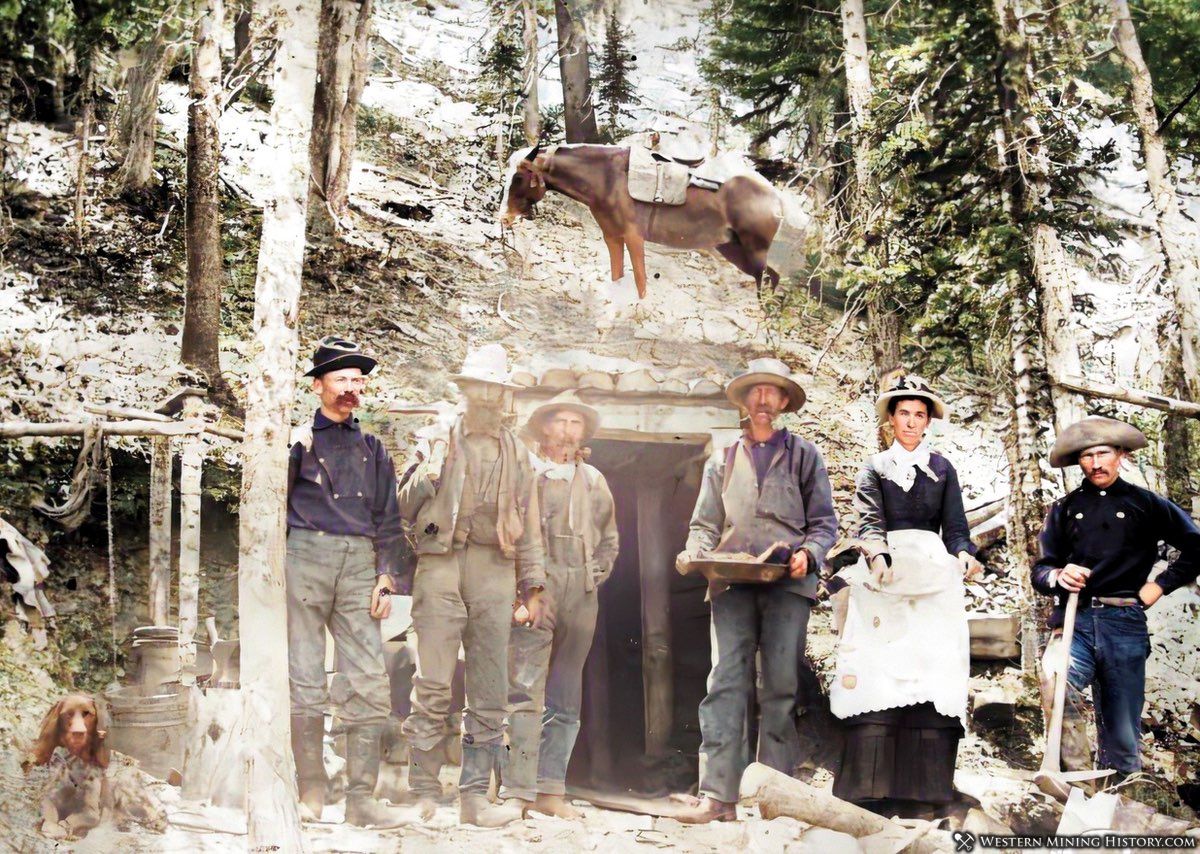 Enhancement software was able to bring this old photo back to life. A mine crew poses at the Boss Mine near Breckenridge, Colorado sometime during the 1880s. Note that the dog is on a chain.
Dog and His People Having Fun at Copper Rock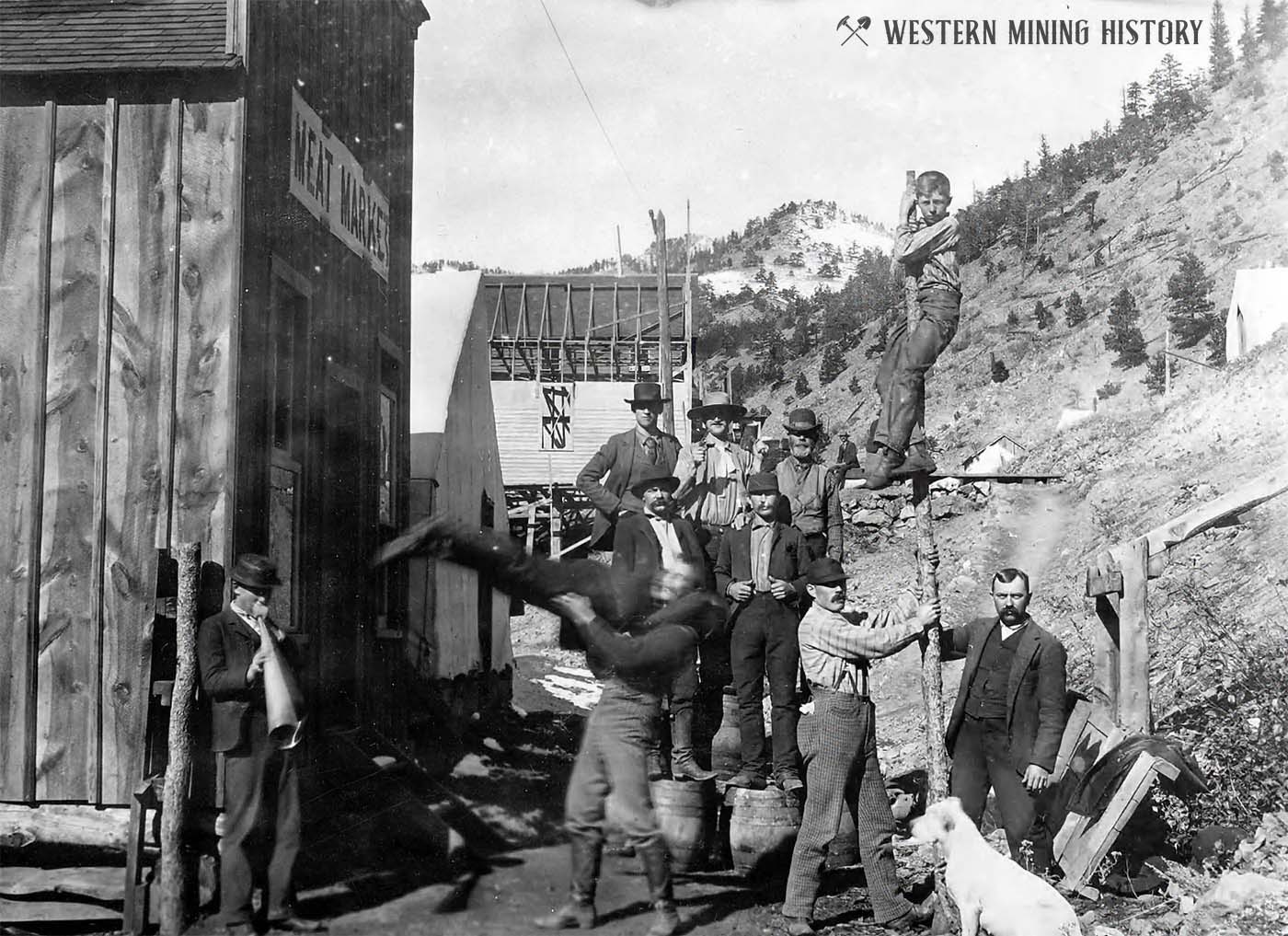 Copper Rock, Colorado was the scene of a minor mining excitement in 1892. The town never amounted to much, but that did not dim the enthusiasm of the men in the photo above. Dogs were always part of mining booms, and if the excitement ended up being a disappointment for the men involved, it was never a disappointment for the dogs.
Dog Guards Miner's Tent at Colorado Prospect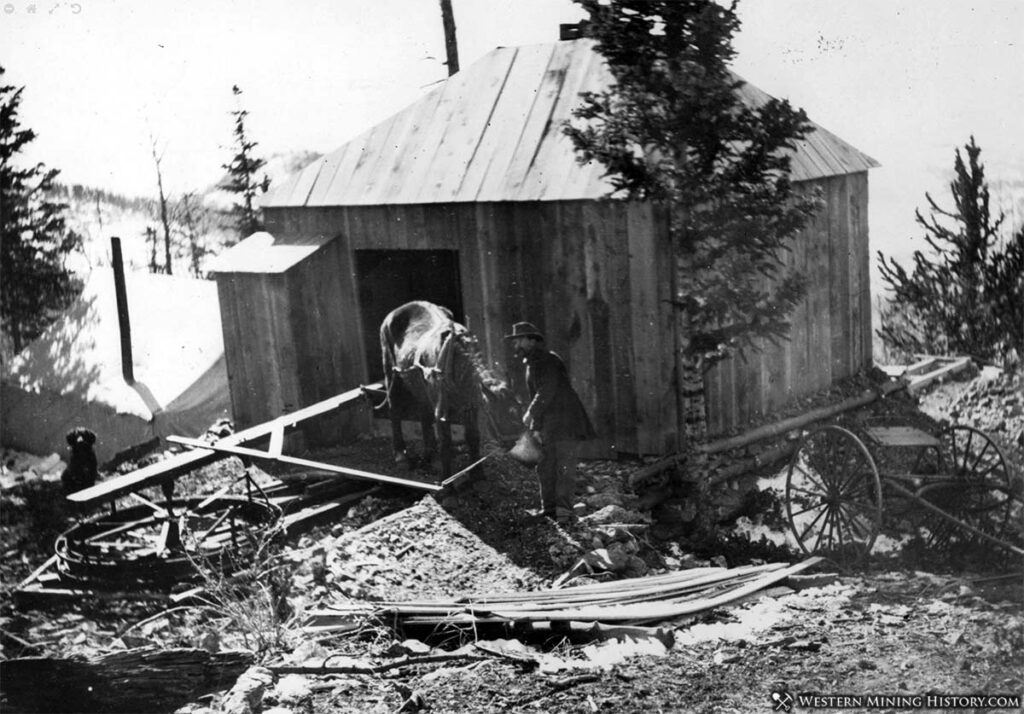 As this photo illustrates, sometimes a prospector gets to some serious mining work to prove the value of his discovery. Note the miner's canvas tent, horse whim powered hoist, and ubiquitous frontier dog.
This Dog is Part of the Prospecting Team
This team of 4 prospectors are examining gold in the pan at Rockerville, South Dakota. The gold strikes at the Black Hills were fabulously rich, but the dogs were generally in it for the adventure and not the color.
Crew of the Union-Companion Mine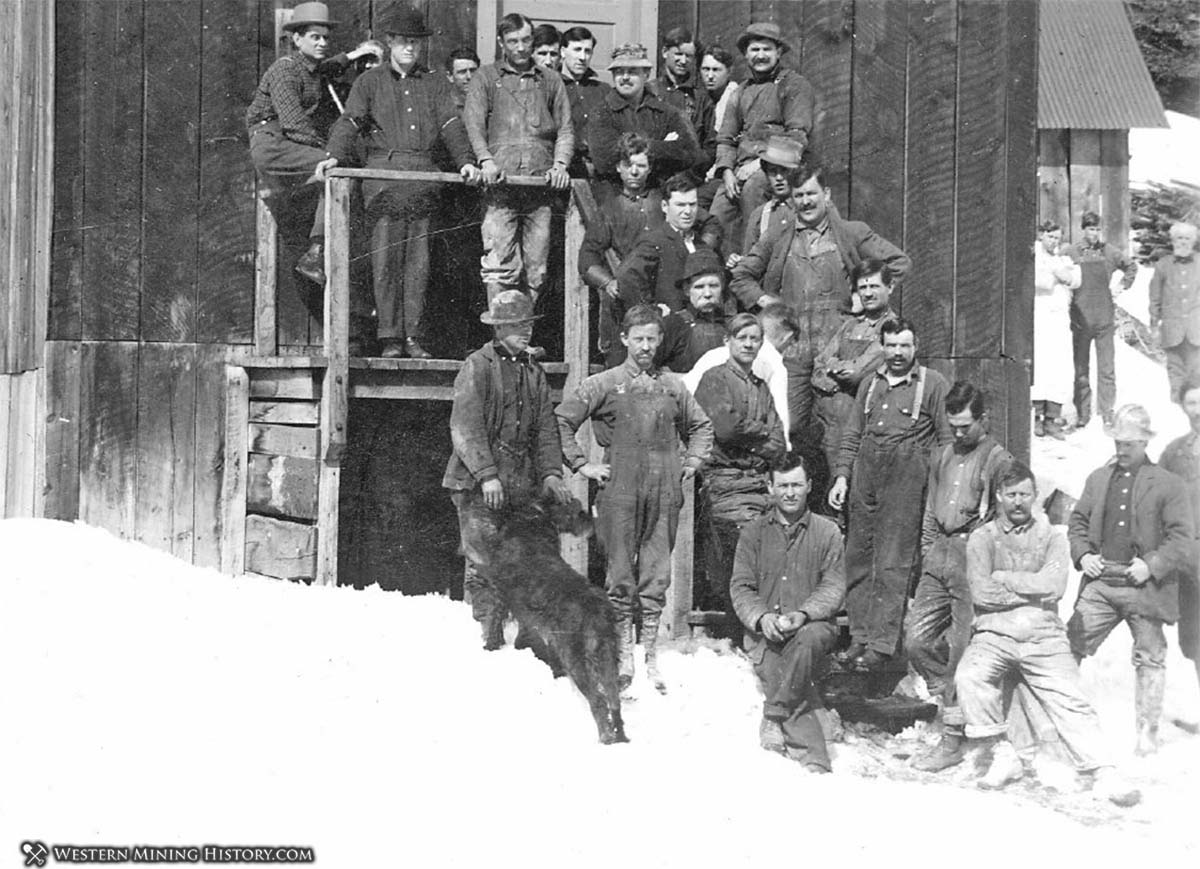 The Union-Companion mine was located at Cornucopia, Oregon, in what is the state's most rugged mountainous area. Deep snows were common here in the winter, but this dog is dressed for the weather.
Dredge Crew at Hammonton, California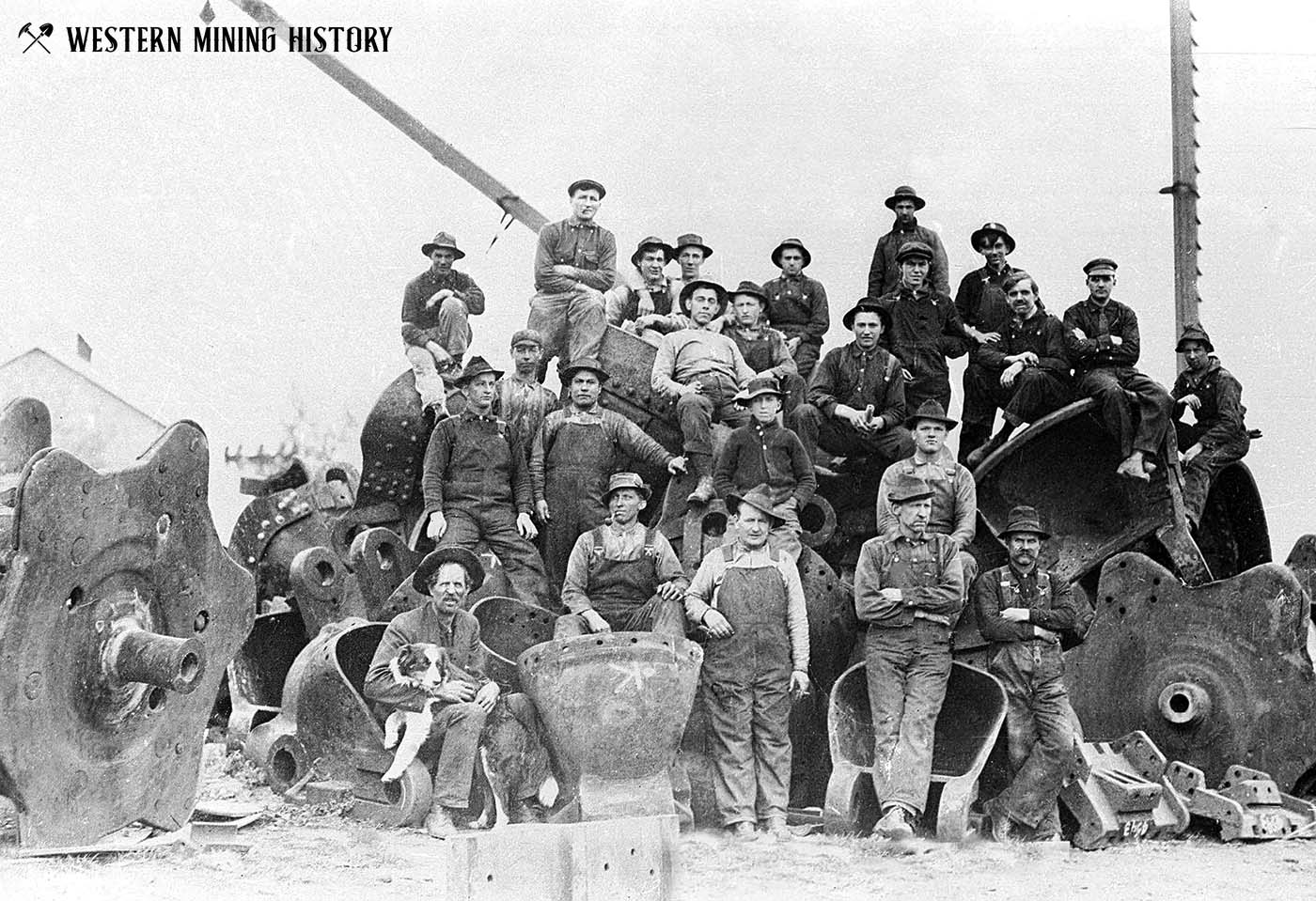 This crew operated one a massive gold dredges in the Yuba goldfields of California. Here they are posing among the machinery from one of the dredges. Note the man in the front holds a dog as he sits in a dredge bucket.